Who is Ali Hoxie?
Ali Hoxie is an American news reporter and traffic anchor working for WXYZ-TV as a morning traffic anchor as of 2022.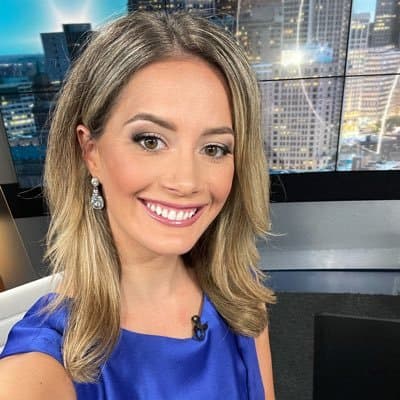 Ali Hoxie Date of Birth / Age
Hoxie was born in May 1990 and is 32 years old as of 2022.
Ali Hoxie Height
Hoxie stands at a height of approximately 5 feet and 6 inches tall.
Ali Hoxie Parents and Siblings
Hoxie was born and raised in Michigan. She was raised by a single mother whom she holds close to her heart as she made her who she is today. She has an older sister named Jamie. In addition, she is close to her family and calls them her best friends. Regularly, she posts them on her Instagram account wishing them well and happiness. Her sister is a mother of twins, Luke and Leo. They were born in April 19 2021. Hoxie serves as their godmother and auntie which she takes seriously as she's always posting them with her on her Instagram doing her respective duties. We will however update this information once it's available to the public.
Ali Hoxie Spouse
Hoxie has for a long time been keeping details regarding whether or not she is dating private. It is therefore not known whether Hoxie is married or not but the information will be updated once available.
Ali Hoxie Kids / Children
Details regarding whether or not Hoxie has any children are not available to the public at the moment.  Although, we do know she has a cat named Lola which she regularly posts on her Instagram account. However, we will update this information once more details concerning this are available.
Ali Hoxie Education
In 2008, Hoxie joined the Grand Valley State University and became its 2009 with a degree in journalism. She went on to Columbia College Chicago. She majored in majored in journalism with a concentration in broadcast journalism and a minor in public relations.
Ali Hoxie Career
Hoxie works for WXYZ-TV as a morning traffic anchor as of 2022. Prior to working for WXYZ-TV she served KSHB / KMCI / The EW Scripps Company, Kansas City as a reporter and multimedia journalist since August 2015 for 2 years. Secondly, she worked for WTOL, Toledo as a multimedia journalist for 2 years and 2 months having joined in June 2013. Third, she worked as a multimedia journalist for WLIO-TV, Lima for 9 months since joining in September 2012.
Last but not least, she served WLS-ABC 7 News, Chicago as a news planning intern for months since joining in January 2012. According to Hoxie, her most unforgettable story is the disappearances of high school students in 2007 and 2016  respectively: Kara Kopetsky and Jessica Runions who turned up death. They had been killed by Kylr Yust whom in both cases was their ex.
He was found guilty of voluntary homicide in Kopetsky's death, and second-degree murder in Runions' death. He was given the maximum sentence possible in Missouri which was 15 years for voluntary manslaughter and incarceration for second-degree murder.
How Much Does Ali Hoxie Earn?
Hoxie approximately earns an annual salary that ranges from $100,000-$500,000.
How Much is Ali Hoxie Worth?
As a traffic anchor, Hoxie has been able to accumulate a net worth that ranges from $1 million to $5 million.
Ali Hoxie Twitter