Who is Babita Sharma?
British, Journalist and Reporter, Babita Sharma, works with BBC where she serves the station as a News Presenter and journalist. She has been working with the station since 2003.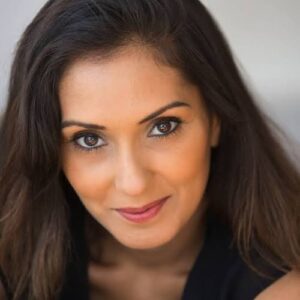 Babita Sharma Date of Birth / Age
Sharma is approximately 45 years as of 2022 although her exact age is not known as she has managed to keep her date of birth away from the public. However, we will update the information once available.
Babita Sharma Height
Sharma stands at a height of approximately 5 feet an 6  inches tall.
Babita Sharma Parents and Siblings
Sharma was born and raised in Reading, Berkshire. She has two older sisters. She lived above a number of corner shops around Reading and Caversham owned by her mother Prem and her father Ved. We will however update this information once it's available to the public.
Babita Sharma Spouse / Husband
Sharma is married to Adam Patterson. They previously lived in the London Borough of Richmond, and relocated to Belfast in February 2022.
Babita Sharma Kids / Children
Details regarding whether or not Sharma has any children are not available to the public at the moment. However, we will update this information once more details concerning this are available.
Babita Sharma Education
Sharma  attended the University of Wales and graduated with a degree in journalism, Film and Broadcasting.
Babita Sharma Career
Sharma began working with BBC Radio Wales and Thames Valley Television. She moved to Dubai, working on radio for Channel 4 FM and for Ajman TV where she presented a weekly music program. She returned to the UK in 2003 and began her BBC career at BBC Radio Berkshire as a travel presenter and producer. Sharma then moved to the newsroom in Southampton, reporting and producing for BBC South Today. In 2007 she moved on to BBC Spotlight Channel Islands working as a video journalist and regular presenter of the evening bulletin.
Sharma transferred to the BBC News Channel in 2008, initially as presenter of the Your Money program. In early 2009, she assumed the main business role and then moved to the BBC News Channel, BBC One and BBC World News in her current full-time presenting role. For the BBC World News program Newsday, which began airing from its new studios on 31 July 2015, Sharma has served as live anchor from the main Broadcasting Centre in London.  The "World Travel Market global trends report 2013", which was prepared for the World Travel Market and the Euromonitor International was the subject of a panel debate in which Sharma participated.
Sharma observed: "The global economy in 2013 has stabilized compared to 2012 with a 3.1% (gross-domestic-product) growth expected for the year. The International Monetary Fund predicts a further 3.8% increase during 2014".She appeared on series 3 episode 7 of "Celebrity Eggheads". Presented series 1 & 2 of Supermarket Secrets with Gregg Wallace.
Sharma also hosts various ceremonies, such as the Angel Film Awards at the Monaco International Film Festival from 2011 to 2013 and the 2012 Wings of Hope Achievement Award ceremony. She also moderates panel discussions and speaks at conferences, such as the World Travel Market. 2017 made the three part series Dangerous Borders: A Journey across Indian & Pakistan for BBC2. In December 2016 her documentary Booze, Beans & Bhajis: The Story of the Corner Shop was shown on the BBC4. Sharma co-hosted the Asian Curry Awards 2018 at the Grosvenor House in London on Sunday 18 November 2018.
How Much Does Babita Sharma Earn?
Sharma earns an annual salary that ranges from $100,000-$500,000.
How Much is Babita Sharma Worth?
As a Journalist, Sharma has been able to accumulate a net worth that ranges from $1 million to $5 million.
Babita Sharma Twitter