Who Is Carolyn Clifford?
Carolyn Clifford is an American journalist of African descent working for WXYZ-TV as an anchor at 4, 6, and 11 p.m.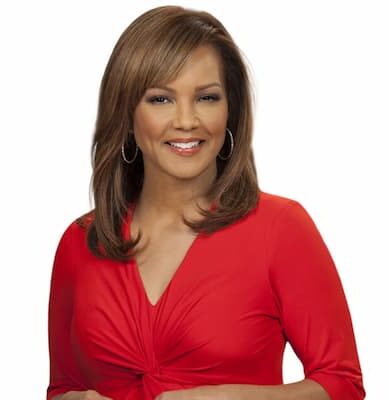 Carolyn Clifford Date of Birth / Age
Clifford is  52 years as of 2022 as she was born on the 18th of April 1970.
Carolyn Clifford Height
Clifford stands at a height of approximately 5 feet and 6 inches tall.
Carolyn Clifford Parents and Siblings
Clifford was born and raised in Detroit. She has 10 siblings with almost 60 nephews and nieces. She manages to keep information regarding her parents, siblings, and extended members of her family away from the limelight. We will however update this information once it's available to the public.
Carolyn Clifford Spouse(Husband)
Clifford is married to George F. Goss. They are raising five children together. Of the five, three are her biological children whom she shares with George while two are George's biological kids from his previous marriage. She used to be married to Frank Taylor whom she later on divorced. Frank Taylor was a restaurant owner who sued Carolyn for 104K for the café. This might be why she divorced him.
Carolyn Clifford Kids / Children
Clifford has 5 children; in which 3 are her biological children and two are not. Her 3 biological children are Arielle, James, and Brooke of which she had with her husband George F. Goss. The remaining 2 are  the biological children of her husband, George named Gregory Jr. and Alyssa.
Carolyn Clifford Education
Clifford attended and graduated from the Michigan State University with a degree in Broadcast Journalism. Also, she was in the MSU's Army ROTC where she gained the ability to have intellectual resilience.
Carolyn Clifford Career
Clifford works for WXYZ-TV as an anchor at 4, 6, and 11 p.m.  Prior to becoming the evening anchor she was WXYZ'S weekend health reporter. In May 2002, she went to become the morning co-anchor in "7 Action News This Morning." After she became the co-anchor for the news at 11pm, she stopped serving as the health reporter. She had spent 13 years as the health reporter. During her time as the health reporter, she informed her audience about recent findings in medicinal  field and the impacts it had on the community.
Also, she was the host of "Healthy Living Sunday" which is a program that has been selected for an Emmy Award more than once. Prior to joining WXYZ, she worked for WPGH-TV, Pittsburgh as an anchor at 10 p.m.  Also, she had worked for WLFL-TV, Raleigh as anchor at 10 p.m. before her time in WPGH-TV.  Additionally, she worked for CBS associates in Michigan, Florida, Orlando and Lansing. However, her career launch was when she worked for a radio station in Lansing. In  the year 2015, she was the only anchor from Michigan and among the chosen few journalists picked to interview President Barack Obama at the White House. The interview was on matters concerning the Iran Nuclear Deal.
In addition to this, she has interviewed big figures like Barbara Walters and Oprah Winfrey just to list a few. Also, she has broadcasted many events such as South African President Nelson Mandela's first visit to Michigan after he was freed from prison and typhoons in North Carolina. Due to her outstanding work as a journalist, she has bagged many awards. First, she has won the Emmy award 20 times. In September 2021, she was put in the Michigan Broadcasting Hall of Fame and received the 2021 Michigan Association of Broadcasters Broadcast Excellence Award for best news anchor.
Also she has been recognized by the Michigan Association of Broadcasters, the Associated Press and accorded a special tribute by the Karmanos Cancer Institute as one of their "Heroes of Breast Cancer." On top of this, she was dubbed "Woman of the Year" by the YWCA of Western Wayne County. Also, she was acclaimed by the Detroit City Council and Detroit Urban League for her volunteer and public work in the Metro Detroit region.
In addition to this, she frequently hold talks at schools in the region and public organizations. Also, she has aided and lent a helping hand to victims of domestic abuse. On a side note, Clifford dreamt of being a Broadway dancer before she became a journalist. Also, she presented in the Michigan State Dance Company and the MSU Motion Dance Team as a long-term dancer before graduating.
How Much Does Carolyn Clifford Earn?
Clifford approximately earns an annual salary that ranges from $100,000-$500,000.
How Much is Carolyn Clifford Worth?
As an anchor, Clifford has been able to accumulate a net worth that ranges from $1 million to $5 million
Carolyn Clifford's Weight Loss
Clifford lost her weight due to an operation done to remove a football-sized fibroid tumor which had been discovered Dr. David Shukri, the chief of cardiology at St. John Providence Hospital. The tumor was on the verge of collapsing her kidneys and made her very ill. She had symptoms like headaches, stomach aches and had trouble emptying the bladder.
Carolyn Clifford Twitter