Who is Charlotte Deleste?
Charlotte Deleste is an American morning news anchor, "News 3 This Morning", for Madison's WISC-TV (Channel 3). In addition, she is the founder of Gio's Garden Therapeutic Respite Center.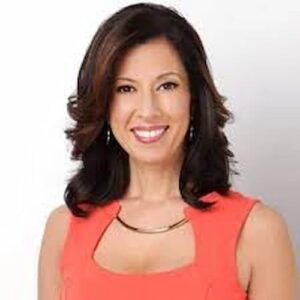 Charlotte Deleste Date of Birth / Age
Deleste was born in St. Louis, Missouri, and will be turning 51 years as of 2023. He was born in the year 1972 on April 19th.
Charlotte Deleste Height
Deleste stands at an average height. However, her exact body measurements will be posted once available publicly.
Charlotte Deleste Parents and Siblings
Deleste was born and raised in the United States. Her hometown is St. Louis, Missouri. She manages to keep information regarding her parents, siblings, and extended members of her family away from the limelight. We will however update this information once it's available to the public.
Charlotte Deleste Spouse / Husband
Deleste's husband is Ron Giordan who serves as a social media strategy director for Mid-West Digital Marketing. Previously, he was a broadcast producer and assistant news director.
"My current job allows me to continue doing what I have always loved: being on top of all that is happening in the world on a daily basis. Social media is how news is spread now … much faster than broadcasting. My interaction with people locally, nationally and even internationally via social media keeps my life interesting." Giordan stated
Charlotte Deleste Kids / Children
Deleste has two boys namely Giovanni and Benicio. Giovanni who is her firstborn was diagnosed with Lennox-Gastaut Syndrome and Pervasive Developmental Disorder—Not Otherwise Specified. Also, he was diagnosed with an autism spectrum disorder. He started experiencing seizures immediately on birth and hence underwent brain surgery although he continued to have many seizures approximately 80 seizures a day. She also enjoys the company of her cat.
Charlotte Deleste Education
Deleste attended Marquette University and graduated with a Bachelor of Arts degree in Broadcast & Electronic Communication. She attended Ursuline Academy.
Charlotte Deleste Career
Deleste is an excellent host of a segment called "Do something good". This is a monthly highlight of an individual or cause which truly exemplifies the human spirit.
Charlotte has been working at WISC-TV, a CBS affiliate in Madison, since December 2006 and anchors "News 3 This Morning". She was awarded the Woman of the Year Achievement Award from the Wisconsin Women of Color Network in 2012.  In addition, Deleste has participated in many Muscular Dystrophy Association and Make-A-Wish telethons.
Charlotte interned at Entertainment Tonight and thereafter joined KTTC-TV as a reporter.  Later in 1996, she joined WDJT-TV as an anchor and reporter. However, Deleste joined the WBRE team in 2000 as an anchor until 2003. Further, she served as a marketing specialist for the Wisconsin Department of Veteran Affairs.
During Deleste's spare time, she sometimes gets in a nap, visits friends, spends time with family, or goes someplace alone and just "be".
How Much Does Charlotte Deleste Earn?
Deleste annual salary is not publicly known but will be updated soon.
How Much is Charlotte Deleste Worth?
As an anchor and reporter, Deleste has been able to accumulate a fortune.
Charlotte Deleste Gio's Garden Foundation
Deleste founded a nonprofit organization in honor of her older son In June 2012. The foundation ensures families are provided with up to 16 hours of therapy/respite care a month free of charge. In addition, it helps connect parents to other critical resources in the area.
The organization which is a nonprofit was inspired by their son. This is when at 2 months old their son started showing signs of childhood epilepsy called Lennox Gastaut Syndrome. Therefore, he needs care around the clock, and in addition, he was also diagnosed on the autism spectrum and is unable to communicate with words.
Deleste and her husband found they were only qualified for public respite care only one hour a day, five days a week. It is then that she founded the organization to assist parents of special-needs children.
Charlotte Deleste Twitter