Who is Chris Egert?
Chris Egert is a well experienced TV News Anchor & TV Host | Writer | Speaker | Advocate for Amputee Community and a volunteer. He is an Edward R. Murrow winning reporter and has also received multiple various Emmy awards for his work covering the people of Minnesota. Chris is currently a morning Show Co-Host – Minnesota Live at KSTP-TV since September of 2021.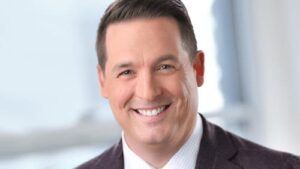 Chris Egert Date of Birth / Age
Egert is approximately 46 years as of 2022 although his exact age is not known as he has managed to keep his date of birth away from the public. However, we will update the information once available.
Chris Egert Height
Egert stands at a height of approximately 5 feet and 8 inches tall.
Chris Egert Parents and Siblings
Egert was born and raised in Armour,South Dakota. He manages to keep information regarding his parents, siblings, and extended members of his family away from the limelight. We will however update this information once it's available to the public.
Chris Egert Spouse /Wife
Egert's wife is called Kate and together have a daughter namely Delaney and a son Dakota who is a Type 1 diabetic. More information on his wife will be updated once available.
Chris Egert Kids / Children
Egert have a daughter namely Delaney and a son Dakota who is a Type 1 diabetic.  However, we will update more  information regarding his children once more details are available.
Chris Egert Education
Egert attended Huron University and graduated with a Bachelor's Degree, Communications/Public Relations in 1996. While there, he became an outstanding Communications Student of the Year 1994, 1995, 1996. Also, Chris was a member of Men's Basketball team that placed 8th in the nation NAIA Div. I
Chris Egert Career
 Egert is a famous p
urveyor of hand crafted local news content since 1993.
Chris came back home to his family and friends in the Bold North after spending the last 20+ years telling people's stories all around the country.
Egert won Edward R. Murrow for his excellent work as a reporter. Additionally, he has received multiple various Emmy awards for his work covering the people of Minnesota.
Chris was among the first journalists in the world to arrive in Japan in 2011 after the earthquake and Tsunami.  Further, Chris covered the historic hurricane season of 2004 in Orlando.  In Omaha, he was able to cover the start of the War on Terror. He also accompanied the military forces in 2001 as they left for Afghanistan right after 9/11.
Chris traveling a lot has become difficult since he is a  family man living in the west metro. Moreover, he serves the morning news to enable him to be around in the evenings to help coach his children's football and basketball teams.
Chris and Kate his wife have a son who has Type 1 diabetes. They actively participated in local organizations like JDRF in their fundraising efforts to help find a cure.  Chris is also a recent below-the-knee amputee which was a result of a series of unfortunate events stemming from his high school and college basketball career. Egert also keeps emceeing local charity events, or on some kind of sports court,  and you'll find him on Lake Minnetonka whenever off duty.
You can also read about
How Much Does Chris Egert Earn?
Egert earns an annual salary that ranges from $100,000-$500,000.
How Much is Chris Egert Worth?
As a reporter, anchor & TV host, writer, speaker, and advocate for Amputee Community  Chris has accumulated a net worth ranging from $1 million to $5 million.
Chris Egert Twitter