Who is Dan Guthrie?
Dan Guthrie is an American meteorologist who is working for SoCalGas as a media and stakeholder engagement manager. He joined in August 2022. Before that, he served WZTV Fox 17 as a meteorologist and an anchor.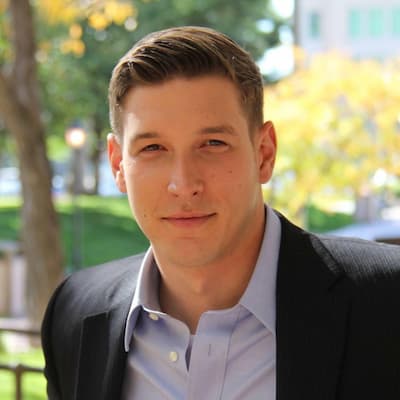 Dan Guthrie Date of Birth / Age
Guthrie was born on January 23rd, 1987. He is 35 years old as of 2022.
Dan Guthrie Height
Guthrie stands at a height of approximately 6 feet and 1 inch tall.
Dan Guthrie Parents and Siblings
Guthrie was born and raised in the U.S. He manages to keep information regarding his parents, siblings, and extended members of his family away from the limelight. We will however update this information once it's available to the public.
Dan Guthrie Spouse(Wife)
Guthrie exchanged vows with his wife, Caitlin. Caitlin was born on January 26th, 1991, and is 31 years old as of 2022. Nonetheless, the information will be updated once available.
Dan Guthrie Kids / Children
Details regarding whether or not Guthrie has any children are not available to the public at the moment. Also, he has a dog named Charlie. However, we will update this information once more details concerning this are available.
Dan Guthrie Education
After completing his high school education, Guthrie went on to join Valparaiso Universityin 2005. Later, in 2009 he becam its graduate with a Bachelor Of Science degree in Meteorology and Communications-TV/Radio. Further in March 2022, he got issued a Sustainabilty Business Strategy certificate from the Harvard Business School. Moreover, he holds a Circular Economy and Sustainability Strategies certificate from University of Cambridge.
The certificate was issued in February 2022. Also, he is a Cerified Broadcast Meteorologist from the American Meteorological Society. He got certified in December 2013. The certificate is the highest honor a meteorologist can attain in the meteorology industry. While he was in high school, Guthrie served in the musical productions of The Sound of Music and Bye Bye Birdie and other productions.
Guthrie works for SoCalGas as a media and stakeholder engagement manager. He joined in August 2022. Before that, he served WZTV Fox 17 as a meteorologist and an anchor. Further, he joined the station in February 2021 and left in August 2022. Moreover, he served KSL as the afternoon and evening meteorologist. Also, he served as a fill-in on KSLAM and KSL News at 5, 6, 6:30, and 10 on weeknights.
Additionally, he joined the station in October 2013 and left in December 2020. Nonetheless, his broadcasting career debuted when he served WIFR-TV in Rockford, Illinois. In addition, he served the station as a meteorologist and multimedia journalist. Plus, he served WMTV-TV in Madison. While in Madison, his most challenging job was passionately reading Green Bay Packers spotlights throughout the morning show as an avid Chicago Bears fan.
When he served KSL, he taught fourth graders about Utah's weather as part of KSL's Junior Weather Specialist Program. Yearly, he visited just under 100 schools while in Salt Lake City. Furthermore, Guthrie enjoys giving back to the community and partakes in various charity occurring. When he is not working, he loves playing golf, traveling, reading, exercising, exploring, the movie theater catching the latest new releases, or watching sports. Also, he is an ardent fan of the Bears, Blackhawks, Cubs, and Notre Dame football. Fun fact; he's a professionally trained singer because he once dreamed of being on Broadway.
How Much Does Dan Guthrie Earn?
Guthrie approximately earns an annual salary that ranges from $100,000-$500,000.
How Much is Dan Guthrie Worth?
As a meteorologist, Guthrie has been able to accumulate a net worth that ranges from $1 million to $5 million.
Dan Guthrie Leaves KSL
Guthrie left KSL as a result of the organization's decision to change the function of his position.
"ANNOUNCEMENT: It is with a heavy heart that after 7 years, I am announcing my departure from KSL. Unfortunately, in the time of COVID, as well as being part of an ever-evolving industry, KSL has made an organization decision to change the function of my position. Since receiving the news 2 weeks ago, I've been searching for the right way to put this into words.
I wish to express my gratitude for the friends I've made, the truly talented people I was able to work with, and YOUR willingness to let me into your homes. Forecasting weather in Utah has been one of the greatest joys of my life, and there is much I will miss about the job that has become a part of my identity over the last decade of my professional career. While I'm not ruling out a return to broadcasting in the future, I look forward to whatever opportunities the future holds as I enter the next chapter of my life. T.." He posted on his Facebook page.
Dan Guthrie Twitter