Who is Daralene Jones?
Daralene Jones is an American Emmy-Award-winning Anchor/Reporter who works for WFTV where she serves as an Investigative Reporter. She has been working with the station since May 2014.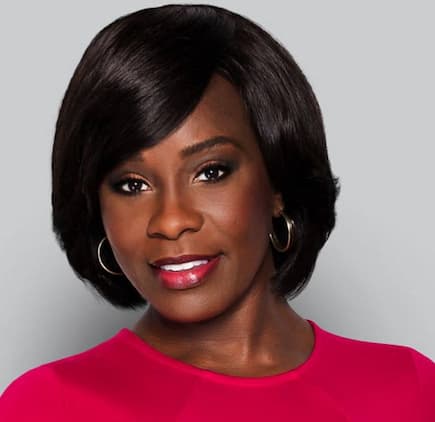 Daralene Jones Date of Birth / Age
Jones is 40 years as of 2023 although she has managed to keep her date of birth away from the public. However, she was born in 1983, in Chicago, the United States of America.
Daralene Jones Height
Jones stands at the height of approximately 5 feet and 7 inches tall.
Daralene Jones's Parents and Siblings
Jones is the daughter of Russell Hawkins her father and the late Shirley Jean Head her mother. Being the youngest of five children, her mother Shirley worked as a nurse. Their family resides on the South Side, In crime neighborhoods and after the death of Shirley, her father stopped coming around. She has not seen him since then and went on living with her aunt for a couple of years. Unfortunately, her Aunt sent her away the summer before she joined eighth grade for being a stubborn child. Later on, Jones moved to live with her sister Dorothy who was attending Western Illinois University in Macomb.
Daralene Jones Spouse / Husband
Jones is happily married to her loving husband Antoine Jamaal Bell in June 2013 at the Orange County Regional History Center in Orlando, Florida. Jamaal Bell is a mechanical engineer for Lockheed Martin and is the son of Sandra F. Bell in Olivia, North Carolina.
Daralene Jones Kids / Children
Currently, Jones and her husband Antoine are blessed with two children Eleon and Aiden.
Daralene Jones Education
Jones attended the University of Illinois Springfield and attained her Master of Arts in Public Affairs. Later, she joined Illinois State University where she graduated with a Bachelor of Science degree in Communication, Journalism, and Related Programs.
Daralene Jones Career
Jones works for WFTV News serving the station as an Investigative Reporter. She began her broadcasting career as a Reporter, Statehouse Reporter at WICS-TV in Springfield, Illinois for 10 months since August 2002. She was responsible for covering the Illinois Legislature and was one of few reporters allowed on death row when Governor George Ryan granted blanket clemency. Later, Daralene served as a Bureau Chief at WCIA in Decatur, Illinois Area for 2  years since 2003.
Jones was responsible for managing the Decatur, Illinois news bureau, like generating news content for daily newscasts and driving the focus of coverage for the city and state government issues. Moreover, she was also responsible for building relationships with state lawmakers, lobbyists, and other government leaders to keep a pulse on legislative issues impacting the local community and the state.
Moving to Memphis, Tennesse, Jones worked as the lead reporter of WREG-TV from 2005 to 2007. She was the reporter for daily newscasts and focused on education and government affairs. Moreover, she worked to build relationships with sources to generate exclusive content. Additionally, Jones was called on to fill in for anchors and produced daily content for the station web page.
Daralene Jones 2007 to 2014
From 2007 for about 6 years, Daralene worked as a reporter at Cox Media Group, Orlando, Florida where she was responsible for producing enterprise reports for daily newscasts. Subsequently, she focused on generating exclusive, lead stories and was the lead reporter on the shooting death of Trayvon Martin. To boot, Daralene was also the lead reporter on the hazing death of Robert Champion. She was breaking exclusive content in both stories that gained national attention.
Moreover, she developed a reputation for holding public officials accountable. When voters were stuck in line for hours during the 2012 Presidential election, Jones was the only reporter to question Governor Rick Scott about decisions he made that led to the long wait times.  Afterward, she left the station and worked for NBCUniversal Media, LLC in Philadelphia, Pennsylvania (WCAU) as a reporter for a year and 5 months since January 2013. Daralene was the lead reporter in the top 5 media market and covered all major stories, including breaking news, government, education, and crime. Furthermore, she built relationships with sources that led to exclusive content for daily newscasts.
Daralene Jones WFTV (Cox Media Group)
Joining the station in March 2014, Jones is currently the  4 p.m. Anchor and Investigative Reporter delivering news content to the Central Florida media market. Recently, she produced the documentary, Groveland 4: Journey to Exoneration, detailing the story of four young Blacks who were falsely accused of raping a white woman in 1949. Moreover, she is the executive producer of the Ocoee Massacre project, a comprehensive television documentary, with a companion website.
Her podcast detailed what sparked the killings of Blacks and the destruction of their property on election day, November 2, 1920, in Ocoee, Florida. As an investigative journalist, Jones produces in-depth reports for the investigative unit, derived from working closely with sources in the fields of government, education, law enforcement, and community advocates. She is as well responsible for delivering comprehensive, well-vetted stories that expose, reveal, and dig deeper into issues that impact Central Florida and the state.
Daralene Jones Community Works and Volunteering
Jones is a member of Florida Executive Women and Jack and Jill of America, Inc. purposed for children. Moreover, she is also a member/panelist at Investigative Reporters and Editors and a volunteer at Seniors First, Inc. Daralene is actively involved as a member/past chapter President of National Association of Black Journalists (NABJ). She is a member/scholarship & awards chair at Delta Sigma Theta Sorority, Inc. and as well a  member of the school advisory council Orange County Public Schools. To boot, Jones is as well a board member of Early Learning Coalition of Orange County.
How Much Does Daralene Jones Earn?
Jones approximately earns an annual salary ranging from $100,000 to $500,000.
How Much is Daralene Jones Worth?
As an investigative reporter and news anchor, Jones has accumulated a net worth ranging from $1 million to $5 million.
Daralene Jones Twitter
Daralene Jones WFTV
Jones works at WFTV where she serves alongside her fellow anchors, reporters, and meteorologists such as;
Greg Warmoth
George Waldenberger
Tom Terry
Martha Sugalski
Karla Ray
Rusty McCranie
Joe Kepner
Christopher Heath
Kassandra Crimi