Who is Ellen Leyva?
Ellen Leyva is an American news anchor and reporter working for ABC7 as a co-anchor of ABC7 Eyewitness News at 4 p.m. and 6 p.m., alongside David Ono. She has been working for the network since 1995.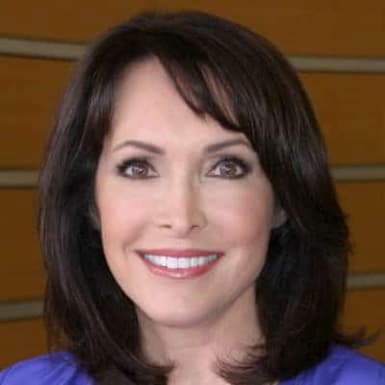 Ellen Leyva Date of Birth / Age
Leyva is 59 years old as of 2022. She was born on January 10, 1963, in Tucson, Arizona, United States.
Ellen Leyva Height
Leyva stands at approximately  5 feet 7 inches (1.70 m) tall.
Ellen Leyva Parents and Siblings
Leyva was born in Tucson, Arizona in a bilingual household and is the daughter of Emma Leyva Duarte and Thomas Kraemer Lundy. Leyva spent much of her time in Mexico with her mother's family which came as an advantage with her job in the Hispanic communities of Phoenix and Los Angeles. She has one sister named Cindy.
Ellen Leyva's Spouse/ Husband
In 1990 Leyva got married to Mark Hair who works as an F-15 pilot. The two had met when Ellen interviewed him as part of her work in Arizona. They have been blessed with two kids. During her free time, she enjoys traveling and reading and spending time with her family.
Ellen Leyva Kids / Children
Leyva and her husband Mark Hair have two daughters Emma who was born in the year ( 1996) and Audrey who was born in (1999).  She also has an adopted rescue dog, Charli. Charli has brought her so much joy that she now champions with "Wags and Walks" to help rescue other dogs and find them forever homes.
Ellen Leyva Education
Leyva attended and graduated from Arizona State University where she attained a degree in broadcast journalism. In 2006 she was more than proud after the Walter Cronkite School of Broadcast Journalism inducted her into the  Hall of Fame.
Ellen Leyva Career
Leyva co-anchors ABC7 Eyewitness News at 4 p.m. and 6 p.m. She started working for ABC7 in 1995 as a health reporter and anchored several other newscasts like morning and midday.
Years of hard work, dedication, and work ethic have given Ellen great opportunities in her career. This includes co-hosting the Oscars red carpet arrivals with Roger Ebert, flying with the Blue Angels, and standing in the OR with Dr. Oz as he performed a double-bypass. Her excellence in work and outstanding professionalism has seen her receive an Impact Award for Excellence in Television from the National Hispanic Media Coalition.
Her major passions include supporting many nonprofit organizations. Some of the causes that are dear to her include; advocating for mental health services for underserved communities, giving her time to Pacific Clinics as often as required, and serving as ABC7 team leader for AIDS Walk Los Angeles.
How Much Does Ellen Leyva Earn?
Leyva earns an annual salary that ranges from $100,000-$500,000.
How Much is Ellen Leyva Worth?
As a news anchor and reporter, Leyva has been able to accumulate a net worth that ranges from $1 million to $5 million.
Ellen Leyva Twitter