Who is Fred Blankenship?
Fred Blankenship is an American journalist of African descent who is working for WSB-TV as a morning anchor since 2007. He anchors the Channel 2 Action News, This Morning at 4:30 a.m. to 7 a.m.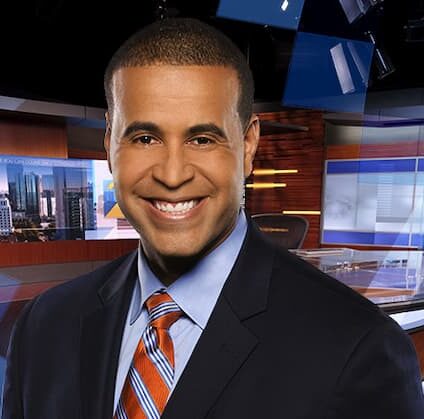 Fred Blankenship Date of Birth / Age
Blankenship was born on the 12th of September 1974.  As of 2022, he'll be 48 years old.
Fred Blankenship Height
Blankenship stands at a height of approximately 6 feet.
Fred Blankenship Parents and Siblings
Blankenship was born in Los Angeles.  His mother is a teacher by profession and he had a father named Fred Douglas Blankenship Jr. Also, the couple has two children: Blankenship and his sister. The late Mr. Douglas passed away on the 8th of April 2003 from diabetes at the age of 57 years old. In addition, Blankenship was 28 years old when his passed away. We will however update this information once it's available to the public.
Fred Blankenship Spouse(Wife)
Blankenship exchanged vows with Paige. Additionally, the couple has three children together: two sons and a daughter. Alao, they reside in Atlanta, Georgia. Nonetheless,  the information will be updated once available.
Fred Blankenship Kids / Children
Blankenship has three children. Of the three, two are boys and the other one is a girl. In addition, they are named; Freddy, Jaden and Layla. However, we will update this information once more details concerning this are available.
Fred Blankenship Education
Blankenship graduated from high school and went on to join the University of San Francisco where he studied journalism. Four years later, he became its graduate with a Bachelors degree in journalism.
Fred Blankenship Career
Blankenship works for WSB as a morning anchor at 4.30 to 7 a.m. Prior to joining WSB, he worked for KGTV, San Diego as a news reporter for six years. Also, he has worked for KAKE-TV, Wichita and KRON, San Francisco. While working for WSB, he has provided coverage for the COVID-19 pandemic and hurricanes just ton list a few. Additionally,  commemorating the 50th anniversary of Bloody Sunday by walking over the Edmund Pettus Bridge alongside Congressman John Lewis.
In addition, that bridge was where Congressman Lewis was nearly murdered alongside other protestors. Blankenship has gained awards for his works such as an Edward R. Murrow award. He received this award as a part of a team he worked with at KRON on a documentary named  "About Race."
Also, he has won several Emmy awards cause of his work at Channel 2 Action News This Morning and Channel 2 Action News at Noon. Further, he is in various organizations such as the"100 Black Men of Atlanta" and "Leadership Atlanta."
On a side note, Blankenship suffered from the Corona virus although his was a Corona Virus Breakthrough Case in August 2021. This is defined as "the detection of SARS-CoV-2 RNA or antigen in a respiratory specimen collected from a person ≥14 days after they have completed all recommended doses of a U.S. Food and Drug Administration (FDA)-authorized COVID-19 vaccine," as stated by the Centers for Disease Control and Prevention. Last but not least, he recovered from the virus and is back to work as of 2022.
How Much Does Fred Blankenship Earn?
Blankenship approximately earns an annual salary that ranges from $100,000-$500,000.
How Much is Fred Blankenship Worth?
As an anchor, Blankenship has been able to accumulate a net worth that ranges from $1 million to $5 million.
Fred Blankenship Twitter