Who is Fred Hickman?
Fred Hickman is originally from Illinois and currently works at Black News Channel, LLC as a prime news anchor and managing editor. He joined BNC.LLC station back in 2019 in the month of October in Tallahassee, FL, United States.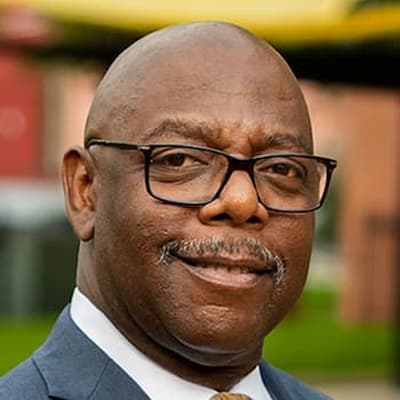 Therefore, he co-anchors the prime-time newscasts, manages editorial responsibilities, and is also a contributor to BNC Sports Weekly. Fred explores the battlefields and museums as well as what the four-state area has to offer during the weekend. Additionally, he learns mostly about history, specifically Civil War History and the Civil Rights Movement.
Fred Hickman Date of Birth / Age
Hickman's current age is 66 years as of 2022 having been born on the 17th of October 1956 in Springfield, Illinois.
Fred Hickman Height
Hickman stands at a height of approximately 5 feet and 9 inches tall.
Fred Hickman Parents and Siblings
Hickman's family details are away from social media. Nonetheless, he is originally from Illinois since this is where he was born in 1956. His caring and loving parents are George Henry and Louise Winifred Hickman.
Fred Hickman Dating/ Spouse / Wife
Hickman's adorable wife is called Sheila Hickman. The couple got married in 2007 but details of their marriage celebrations are not available to the public. We will update this information once it's available to the public.
Fred Hickman Kids / Children
Details regarding whether or not Fred has any children are not available to the public at the moment. However, we will update this information once more details concerning this are available.
Fred Hickman Education
Hickman joined Coe College in Iowa in 1974 and successfully completed it. Therefore, he graduated in 1978 from Cedar Rapids with a Bachelor of Science in sociology. During his time there he proudly worked at the KCOE-FM low-power radio station. Previously, he had attended Springfield Southeast High School
Fred Hickman Career
Hickman was lucky to start his broadcasting career in 1997 at KLWW-AM located in Cedar Rapids, Lowa as a news anchor. However, Fred joined the WFMB-AM team after college where he played country music in his hometown of Springfield, Illinois. Hickman anchored and worked as a sports director at WICS-TV of the Springfield television station. Moreover, during this time he was only 22years old back in the year 1978 He served there till May of 1980.
Thereafter in 1980, Fred worked at Turner Broadcasting in Atlanta which was a young cable television company. Here, he worked alongside Nick Charles in the sports department comprised of four persons for the company's Cable News Network -CNN. Therefore, the two hosted CNN Sports Tonight reporting scores and various events as well as highlights of college and professional games. Also, they choose a "Play of the Day and the show became a nightly rival to ESPN's Sports Center which thereafter Hickman was able to join.
Hickman later had to leave CNN for WDIV to work as a sports anchor in 1984. Therefore, he excellently anchored, a "beat reporter" serving MLB's Detroit Tigers, and became a specialist in boxing from June 1984 till May 1985. However, Fred returned to TBS in 1986 co-anchoring alongside Nick Charles for CNN until 2001 in the month of September.
There, he hosted NBA and NFL pre and post-game shows as well as a commentator on Atlanta Hawks. Additionally, Hickman co-hosted the O Olympic Winter Games in 1992 in Albertville, France, the 1994 games in Russia, and the 1994 Lillehammer Olympic winter games among others.
Fred Hickman Others
Fred emerged part of the story in the news after he was able to report on the millennium celebrations in New York covered by CNN in 1999. Besides, he also worked as a Master of Ceremonies, and guest panelist as well as a speaker for the Butkus award/Eddie Robinson Award. Additionally, he excellently narrated for TBS which contributed to Bob Ballard's specials on National Geographic with the recovery of the Titanic being included.
Hickman at one point during his broadcasting career caused controversy by casting his first-place vote for the 2000 NBA Most Valuable Player Award for Allen Iverson. Therefore, this made him the only voter not casting his first-place vote for Shaquille O'Neal in that year and hence was unable to get the honor of becoming the first unanimous MVP of the NBA in the history of the award. Iverson however was able to finish seventh in the voting.
Fred Hickman YES/ESPN
Hickman had to leave Atlanta for the New York City-based network called YES in October 2001 for its launching in 2002. He hence originally became the first anchor and hosted the pre and post-game shows for telecasts of the New York Yankees. While excellently working there he was also lucky to host New Jersey Nets pre and post-game show cablecasts, and also the weekly Yankees Magazine. He left YES in November 2004 after three baseball seasons and two NBA seasons were completed.
Fred joined ESPN towards the end of the year 2004 where he was able to host the station's flagship shows. The shows included NBA Coast to Coast, Sports Center, Baseball, and ESPN Classic only to mention a few. Additionally, he was a fill-in host on ESPN radio. Here he would host ESPNEWS briefly but later in May 2008 he left the station.
Hickman hosted the Braves Live pre & post-game show on Fox Sports Sportys in the 2009 and 2010 seasons in Atlanta, Georgia. Also, he was able to excellently host the In My Own Words interview show.
Later, he joined the WVUE team and proudly worked as a sports director. Further, Fred was a news anchor at WVLA-TV from August 2015 to July 2018. He thereafter joined WDVM-TV in Hagerstown, Maryland as a producer and news anchor.
Fred Hickman BNC, LLC. Hickman originally comes from Illinois and currently works as a prime news anchor and managing editor for Black News Channel, LLC. He joined the station in October 2019 in Tallahassee, FL, United States.
How Much Does Fred Hickman Earn?
Hickman earns an annual salary that ranges from $70,000-$150,000.
How Much is Fred Hickman Worth?
As an anchor/ editor, Fred has been able to accumulate a net worth that ranges from $1 million to $5 million.
Accomplishments
Hickman formed Fred Hickman Communications, Inc In September 2010. It offers training on the broadcaster for retired athletes and media training services for athletes. Additionally, it coaches staff and sports industry front office personnel. Hickman is also a speaker, spokesperson, event host, voice-over artist, and narrator.
Fred earned nominations for awards of Cable Excellence for being the best host in sports. This was annually from 1988 to 1993 and won in 1989 and 1993. In addition, Hickman was the "sexiest sportscaster" declared by the U.S. This was back in the year 1993 under the Television Fan Association. Also, he luckily received Sports Emmy Award in New York in 2004. He, therefore, was added to the Springfield Sports Hall of Fame in 2007.
Fred Hickman Twitter Handle
https://twitter.com/fhickmannews