Who is Gayle King?
Gayle King is an author and broadcast journalist for CBS News. She is known for her co-hosts for the morning program, CBS Mornings as well as its predecessor CBS This Morning. King is also an editor for O, [The Oprah Magazine as well].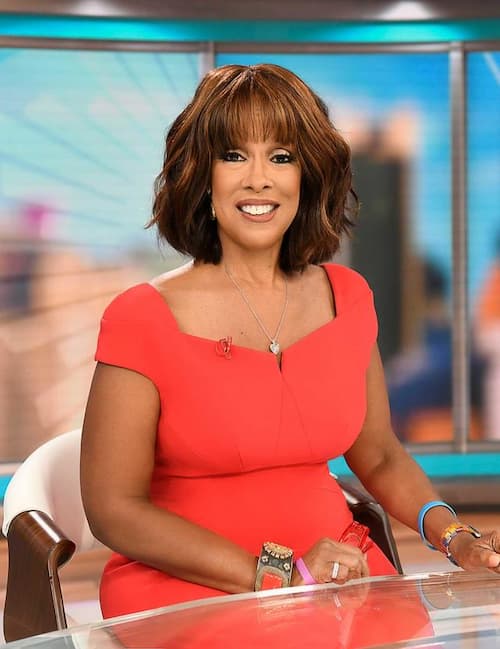 Gayle King Date of Birth / Age
King was born on December 28, 1954. She will be turning 69 years old in December 2023.
Gayle King Height
King is about 5 feet 8 inches in height and 65kg(143lb) in weight.
Gayle King Parents and Siblings
King is the daughter of Peggy and Scott King. She was born in Chevy Chase, Maryland, and spent her years from age six to eleven in Ankara, Turkey. This is where her father was deployed. She then returned to her family in the United States in 1966, where her father worked as an electrical engineer.
Gayle King Spouse / Husband
King was married to Bill Bumpus between 1982 and 1993 an attorney and an assistant attorney general in Connecticut. Also, they share a daughter, Kirby, and a son, William Bumpus Jr.
Gayle King Kids / Children
King has a daughter, Kirby, and a son, William Bumpus Jr.
Gayle King Education
King is a proud graduate of the University of Maryland in 1976 with a degree in psychology.
Gayle King Career
King began her career as a production assistant at WJZ-TV in Baltimore. That was where she met Oprah Winfrey who was an anchor for the station. After that, Gayle gained skills as a reporter at WUSA-TV in Washington, D.C then went to Kansas City, Missouri. There, she was a weekend anchor and general-assignment reporter at WDAF-TV. King was then taken in as a news anchor for WFSB in Hartford, Connecticut in 1981 and worked for 18 years.
Gayle served as a special correspondent for The Oprah Winfrey Show. She co-hosted an NBC daytime talk show together with Robin Wagner called Cover to Cover in 1991, but was canceled after 13 weeks. King was given her own syndicated talk show popularly known as The Gayle King Show in 1997 but it was canceled after one season because of low ratings. She then started hosting The same Show on XM Satellite Radio.
King started hosting a new show, which was also known as The Gayle King Show, on OWN on January 3, 2011. The Show came to an end on November 17, 2011, after King went to CBS to co-anchor CBS This Morning and Charlie Rose as well as a series of third co-anchors which included for a time Norah O'Donnell. The show luckily got more ratings. King and Rose became famous for having good on-air chemistry. The two were close friends even after Rose moved from CBS following sexual misconduct allegations against her.
How Much Does
Gayle King Earn?
King's salary is around $ 11 million per annum.
How Much is
Gayle King worth?
King has an approximate net worth of $72 million per annum. She has accumulated this from her journalism career as well as an actress and producer with minimal appearances in several television shows and movies.