Who is Jeannette Reyes?
Jeannette Reyes is an American journalist of African and Dominican descent who is working for FOX 5 DC as an anchor for FOX 5 Morning and Good Day D.C. She joined the FOX 5 DC News team in December 2020.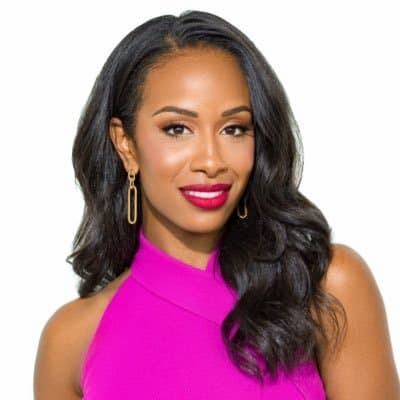 Jeannette Reyes Date of Birth / Age
Reyes is approximately in her 30s as of 2022 although her exact age is not known as she has managed to keep her date of birth away from the public. However, we will update the information once available.
Jeannette Reyes Height
Reyes stands at a height of approximately 5 feet and 6 inches tall.
Jeannette Reyes Parents and Siblings
Reyes was born and raised in Providence. She manages to keep information regarding her parents, siblings, and extended members of her family away from the limelight. Even though she is a native of Providence her family hails from the Dominican Republic.
Also, while growing up she used to watch the Spanish-language network, Univision. Further, her parents are f Dominican immigrants. In addition, she has 11 nieces and nephews. We will however update this information once it's available to the public.
Jeannette Reyes Spouse(Husband)
Reyes exchanged vows with her husband, Robert Burton(@abc7robert) on August 20th, 2016. As of 2022, the couple celebrated their 6th anniversary together. They have a daughter together. Burton is also a journalist who is working for ABC 7 Chicago as a weekday news anchor.
The couple met in June 2012 when Burton served as a weekend sports anchor in Little Rock, Arkansas. Reyes had gone for an interview at the station after her graduation from college. Nonetheless, the information will be updated once available.
Jeannette Reyes Kids / Children
Reyes has a daughter named Isabella Sofia Burton with her husband. Isabella was born on June 30th, 2022. It was on a Thursday at 12:30 p.m. Further, she weighed 6 lbs 1 oz and measured 19 inches. However, we will update this information once more details concerning this are available.
Jeannette Reyes Education
After completing her high school education, Reyes went on to attend Kent State University in 2008. Lter, in 2012 she became its graduate with a Bachelor Of Science degree in Broadcast Journalism. Also, she speaks Spanish fluently.
Jeannette Reyes Career
Reyes works for FOX 5 DC as an anchor for FOX 5 Morning and Good Day D.C. She joined the FOX 5 DC News team in December 2020. Prior to this, she served n in Philadelphia, Pennsylvania at the ABC-owned station, WPVI-TV as an evening anchor for 4 and a half years since June 2016. Further, she served the ABC affiliate in Washington, D.C., WJLA-TV as a general assignment reporter for 2 years and 2 months since April 2014.
While there, she provided coverage for Pope Francis' visit to the nation's capital, among other spotlights. Also, she served KATV ABC 7 in Little Rock Metropolitan as a reporter for 3 years and 11 months since July 2012. Also, she is a member of the National Association of Hispanic Journalists and the National Association of Black Journalists.
When she is not working, she enjoys going to a local coffee shop where she spends her time reading a good book and enjoying her latte. Additionally, she enjoys dancing Merengue and Salas. Furthermore, she loves spending time with her nieces and nephews.
FOX 5 DC
Reyes works with FOX 5 DC where she serves alongside her fellow anchors, reporters, and meteorologists such as;
Gwen Tolbart
Maureen Umeh
Tucker Barnes
Erin Como
Jennifer Delgado
Rob Desir
Angie Goff
Tisha Lewis
How Much Does Jeannette Reyes Earn?
Reyes approximately earns an annual salary that ranges from $100,000-$500,000.
How Much is Jeannette Reyes Worth?
As an anchor, Reyes has been able to accumulate a net worth that ranges from $1 million to $5 million.
Jeannette Reyes Natural Hair
Reyes wore her natural hair in September 2021. This happened following her being questioned on an app, TikTok why she doesn't wear her natural hair. She said it was terrifying to wear her natural hair and didn't know how to do her hair.
After sharing her fears, many women supported her and encouraged her to wear her natural hair. And, some even sent pictures of their natural hair both on Twitter and Instagram. Additionally, some gave her tips on how to take care of and manage her hair.
"Today was the big day. The day I decided to wear my natural hair on air. It started with a question I answered on Tiktok regarding my reluctance (fear, really) of wearing my hair curly on air. I worried I may have shared too much 😅 Then the messages of support, encouragement…and tips came pouring in. Thousands of them. But it was one comment in particular that ultimately made me take the leap (see video for that).
Last night, I announced that I would do the big reveal today (and lost sleep wondering if I'd regret that 😬). And this morning hundreds of you from around the country, including my Philly people ❤️, tuned in to cheer me on and shared pictures of your natural hair on Twitter and here on IG. I've yet to get to all of your comments, DMs, tweets, videos etc. But know that I see you and I feel the love. You made this just a little easier for me 🥰
NOTE: I did flexi rods to get bigger and more defined curls and also to blend in my "leave out" from the weave I used to have since that hair has a looser curl. This is also easier to manage for a newbie like me. I hope to get closer to a wash-and-go (with my tighter curls) once I start getting the hang of this thing. I also ad.." she posted on her Instagram account on September 23rd, 2021. Occasionally, she wears her natural hair both on TV and in life.
Jeannette Reyes Twitter