Who is Katty Kay?
British- Swiss, Journalist, Author, and Presenter,  Katty Kay, works with BBC where she serves the station as a broadcaster. She has been working with the station since 1990.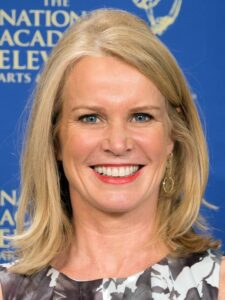 Katty Kay Date of Birth / Age
Kay is approximately 58 years as of 2022 although her exact age is not known as she has managed to keep her date of birth away from the public. However, we will update the information once available.
Katty Kay Height
Kay stands at a height of approximately 5 feet and 6 inches tall.
Katty Kay Parents and Siblings
Kay was born in Wallingford, United Kingdom, and was brought up in Blewbury (formally Berkshire, now in Oxfordshire).  Her father was posted as a British diplomat in various Middle Eastern countries. We will however keep tabs and update this information once it's available to the public.
Katty Kay Spouse / Husband
Kay has been married since 1989 to an ex-BBC reporter. He is also currently the Head of Global Communications at the Carnegie Endowment for International Peace, Tom Carver.
Katty Kay Kids / Children
Details regarding whether or not Kay has any children are not available to the public at the moment. However, we will bring you up to speed on this information once more details concerning this are available to the public.
Katty Kay Education
Kay studied modern languages at St Hilda's College, Oxford, and speaks fluent French and Italian. She achieved a degree, Bachelor of Arts in 1988.
Katty Kay Career
After graduating, Kay worked for a short time at the Bank of England. She decided on a career as an economist and worked for an aid organization in Zimbabwe. Shortly thereafter, her boyfriend Matt Frei approached her with a tape recorder and persuaded her to become a journalist. Kay teamed up with the BBC in 1990. She started off as the Zimbabwe correspondent for the Africa section of the BBC World Service. Kay then returned to London to work for BBC World Service radio before being transferred to Tokyo and then Washington DC in 1992 for BBC News in 1996. She soon joined the Times News Office but returned to the BBC in 2002 as a freelance journalist in the US.
Kay is also a frequent guest speaker on NBC's Morning Joe and Meet the Press, Live with Bill Maher on HBO, and has also appeared on CNN's The Chris Matthews Show and Larry King Live in the past. She occasionally filled in for Diane Rehm on The Diane Rehm Show on National Public Radio (NPR). Kay hosted the nightly coverage of the US Presidential Election on all BBC platforms in 2016 and 2020, appearing with Andrew Neil on both occasions. In 2021, he hosted the BBC's coverage of Joe Biden's inauguration.
On 24 June 2021, Kay announced the nightly show would be his last for the BBC. However, in March 2022 it was announced that Kay would be returning to the BBC as a US special correspondent for BBC Studios, working on documentaries, podcasts and
news, and as a presenter on US election night.
How Much Does Katty Kay Earn?
Kay earns an annual salary that ranges from $100,000-$500,000.
How Much is Katty Kay Worth?
As a journalist and Author, Kay has been able to accumulate a net worth that ranges from $1 million to $5 million.
Katty Kay Twitter