Who is Mike Thomas?
Mike Thomas is an American meteorologist who is working for FOX 5 DC as a weekend morning meteorologist. He joined the FOX 5 DC Weather Team in the summer of 2014. When he joined the station, he initially served part-time and in the fall he joined the station full-time.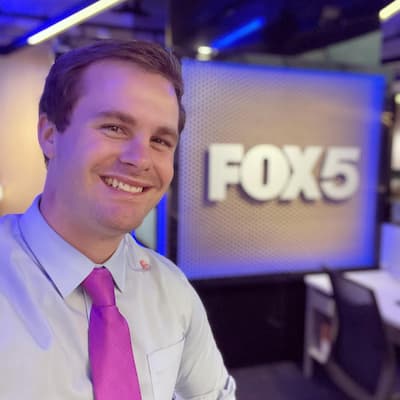 Mike Thomas Date of Birth / Age
Thomas is approximately in his 30s as of 2022 although his exact age is not known as he has managed to keep his date of birth away from the public. However, we will update the information once available.
Mike Thomas Height
Thomas stands at a height of approximately 5 feet and 7 inches tall.
Mike Thomas Parents and Siblings
Thomas was raised in the small Prince George's County town of Beltsville. He manages to keep information regarding his parents, siblings, and extended members of his family away from the limelight. Even so, he has an elder brother and a younger sister. We will however update this information once it's available to the public.
Mike Thomas Spouse(Wife)
Thomas is dating his girlfriend, Sherri(@sherbearxangel). Nonetheless, the information will be updated once available.
Mike Thomas Kids / Children
Details regarding whether or not Thomas has any children are not available to the public at the moment. Also, he has a golden retriever dog named Sid. However, we will update this information once more details concerning this are available.
Mike Thomas Education
After completing his high school education at DeMatha Catholic High School, Thomas went on to attend the University of Maryland, Baltimore County. Later, he became its graduate with a double major in Mathematics and Physics. Moreover, he joined Penn State University where he later attained his degree in Atmospheric Sciences and Meteorology in 2012.
Mike Thomas Career
Thomas works for FOX 5 DC as a weekend morning meteorologist. He joined the FOX 5 DC Weather Team in the summer of 2014. When he joined the station, he initially served part-time and in the fall he joined the station full-time. However, his love for weather began when he was young. When growing up in Beltsville, he graphically recalls the EF3 tornado that tore through the city of College Park and ruined his elementary school at the time.
His curiosity for understanding the phenomena led him to meteorology. Even so, his initial experience with the station was in the summer of 2011 when he took a weather internship under the mentorship of Tucker Barnes and Tony Perkins. After graduating college, he went on to serve Commodity Weather Group in Bethesda. While there, he concentrated on learning weather model analysis, forecast techniques,  extended range, and seasonal forecasting.
Additionally, he forecasted and advised commodity traders and other meteorologists on the New York Stock Exchange. Also, multiple articles featured his forecasts. For instance, USA Today, MSNBC, CNBC, Bloomberg, and Reuters. Moreover, he utilizes his weather knowledge each morning by writing the morning forecast and building the expansive majority of weather graphics seen on FOX 5 DC.
On a side note, he went viral in 2015 as a result of fashioning song lyrics from Taylor Swift and Madonna into weather forecasts. Regularly, he does "weather talks" on his Facebook page, specifically during the snow season. In the first eight years of his tenure on the FOX 5 Morning Team, he broadcasted weather such as hurricanes, tornado outbreaks, and blizzards. Where the great Blizzard of 2016 is his favorite spotlight of his career.
Furthermore, he served as a substitute field, and traffic reporter, and was occasionally featured on"Good Day DC." Moreover, in the spring of 2022, he was raised to serve as an evening meteorologist to replace long-time FOX 5 Chief Meteorologist Sue Palka. Regularly, he writes on fox5dc.com. Also, he serves as the Mid-Atlantic's "Weather Champion" for the FOX Weather Network.
In 2016, he was elected one of the"Top Eligible Bachelors" in Baltimore Magazine. When he is not working, he spends most of his time at his home in Columbia in the company of his dog. As an ardent sports fan, he occasionally attends local sporting happening and advances to play lacrosse, hockey, and volleyball. Moreover, he has a passion for technology, history, skiing, hiking, and traveling. In addition, he enjoys learning anything about absolutely everything and is passionate about sharing that knowledge with others.
FOX 5 DC
Thomas works with FOX 5 DC where he serves alongside his fellow anchors, reporters, and meteorologists such as;
Gwen Tolbart
Tucker Barnes
Erin Como
Rob Desir
Angie Goff
How Much Does Mike Thomas Earn?
Thomas approximately earns an annual salary that ranges from $100,000-$500,000.
How Much is Mike Thomas Worth?
As a meteorologist, Thomas has been able to accumulate a net worth that ranges from $1 million to $5 million.
Mike Thomas Twitter