Who is Nancy Kacungira?
Ugandan Presenter and Reporter, Nancy Kacungira, works with BBC where she serves station as a news presenter and reporter. She has been working with the station since June 2016.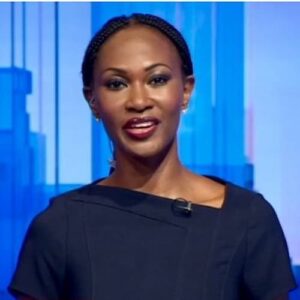 Nancy Kacungira Date of Birth / Age
Kacungira is approximately 35 years as of 2022 although her exact age is not known as she has managed to keep her date of birth away from the public. However, we will update the information once available.
Nancy Kacungira Height
Kacungira stands at a height of approximately 5 feet and 7 inches tall.
Nancy Kacungira Parents and Siblings
Kacungira was born and raised in Tanzania. Both her parents are Ugandan. The name of his father is Clifford Kacungira. Her father worked as a pilot with a charter airline in Dodoma. She has an elder sister whose name is Seanice Kacungira. Nancy had a little brother who unfortunately passed away. She suffered yet another setback as her parents separated when she was still a child. Nancy spent most of her early childhood years in Dodoma, Tanzania, where her father worked, and only relocated to Uganda for her 'O' and 'A' levels.
Nancy Kacungira Spouse / Husband
Kacungira has for a long time been keeping details regarding whether or not she is dating private. It is therefore not privatelyhether Kacungira is married or not but the information will be updated once available.
Nancy Kacungira Kids / Children
Details regarding whether or not Kacungira has any children are not available to the public at the moment. However, we will update this information once more details concerning this are available.
Nancy Kacungira Education
Kacungira attended a missionary school in Dodoma, Tanzania. Her father really wanted her to go to sc Uganda, and she and her sister moved to Uganda for their 'O' and 'A' levels. She enrolled at Namasagali boarding school in Uganda and later on went to Kibuli high school for her A-levels. Nancy joined Makerere University in 2003 to pursue a Bachelor of Arts degree in Design and Visual Communications. She graduated in 2005 with First Class Honors. After graduating from the university, she enrolled at the University of Leeds to pursue a Master of Arts in Communication and Media Studies, where she graduated with distinction.
Nancy Kacungira Career
Kacungira debuted his career as a radio presenter when she was hired to work as an intern at Power FM, a Christian radio station in Uganda. At that time, she was still at university. She quickly rose through the ranks of her career, and she became the deputy program director of the station by the time she graduated with a first-class degree. In 2010, she and her older sister Seanice co-founded Blu Flamingo, a digital media management company. In 2012, she moved from radio to TV when she was employed to work as a newsreader by NTV Uganda.
She worked for the station until late 2013 when she relocated to Kenya to work for KTN News Kenya as a social media editor. When she was working at KTN Kenya, Nancy submitted her application for the Komla Dumor Award in 2015. Luckily for her, she won the award and went to London, UK for three months to work with teams across BBC News. Afterward, she then returned to KTN News Kenya. She was later hired by the BBC where she is still working to date.
At the BBC News channel, she presented Focus on Africa from 2017 to January 2019 and World Business Report on BBC World News. Later, she became the main presenter of World News Today at 7 pm on weekdays and 9 pm on weekends on BBC Four, BBC News Channel, and BBC World News. At the moment, she is in the present In Business Africa segment on BBC alongside Lerato Mbele. Since June this year, Nancy began presenting most of the evening output two in three weekends, on both BBC News Channel and BBC World News. This includes the second half of BBC News at Ten on Friday and Saturday and alternative Sundays.
How Much Does Nancy Kacungira Earn?
Kacungira earns an annual salary that ranges from $100,000-$500,000.
How Much is Nancy Kacungira Worth?
As a presenter and reporter, Kacungira has been able to accumulate a net worth that ranges from $1 million to $5 million.
Nancy Kacungira Twitter