Who is Peyton LoCicero?
Peyton LoCicero is an American journalist who is working for WGNO-TV as an anchor and a reporter. Prior to this, she served the ABC affiliate, WMBB News 13 in Destin-Panama City, Florida as the bureau chief.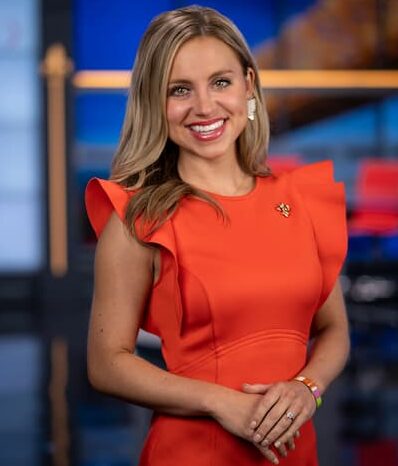 Peyton LoCicero Date of Birth / Age
LoCicero is approximately in her 30s as of 2022 although her exact age is not known as she has managed to keep her date of birth away from the public. Even so, she was born in Louisiana and celebrates her birthday in June. However, we will update the information once available.
Peyton LoCicero Height
LoCicerostands at a height of approximately 5 feet and 6 inches tall.
Peyton LoCicero Parents and Siblings
LoCicero was born and raised in New Orleans. She manages to keep information regarding her parents, siblings, and extended members of her family away from the limelight. Even so her mom, Heidi Rudiger LoCicero celebrates her birthday on August 30th. On the other hand, her father, Brian LoCicero celebrates his birthday on October 12th. Further, he serves as a realtor. Additionally, she has a brother named Andrew who celebrates his birthday on September 18th. Moreover, she seems to have a close relationship with her family as she regularly posts them on her Instagram account. We will however update this information once it's available to the public.
Peyton LoCicero Spouse(Husband)
LoCicero exchanged vows with her husband, Beau Trist on June 5th, 2021 at St.Patrick's church. As of 2021, they celebrated their 1st anniversary. Trist was born on March 24th, 1990, and is 32 years old as of 2022. Nonetheless, the information will be updated once available.
Peyton LoCicero Wedding
Valery Zelenyuk of Vagabond Bridal in Cape Town, South Africa designed the bride, Lociero's wedding gown. In church, she adorned a detachable full tulle overskirt, also by Zelenyuk, a hand-beaded belt, and a monogrammed cathedral-length veil encrusted with shimmering Swarovski Crystals made to capture the candlelight in the church. Also, she wore Gucci shoes. Trist, the groom wore a tuxedo from John's Tuxedos. Additionally, Trist gave Peyton a wedding band that her paternal grandmother wore for 5 decades of marriage.
On the other hand, she gave Trist the wedding ring that his grandfather, General James Boëhringer Cobb, wore during his 5 decades of marriage. After the ceremony in the church, the Kinfolk Brass Band led guests in a second line to the Capital on Baronne for the reception festivities replete with a tailgate region with LSU and Ole Miss food, tents, and décor. Moreover, the wedding and groom cake was supplied by Chasing Wand Baking Studios. Further, they had their honeymoon at the Unico Resort & Spa in Riviera Maya, Mexico.
Peyton LoCicero Kids / Children
Details regarding whether or not LoCicero has any children are not available to the public at the moment. Also, she has a mini schnauzer dubbed Champagne Jack and a Springer Spaniel who answers to the name Virgil. However, we will update this information once more details concerning this are available.
Peyton LoCicero Education
After completing her high school education, LoCicero went on to attend the University of Mississippi. Later, she became its graduate and attained her Bachelor's degree.
Peyton LoCicero Career
LoCicero works for WGNO-TV as an anchor and a reporter. Prior to this, she served the ABC affiliate, WMBB News 13 in Destin-Panama City, Florida as the bureau chief. Nonetheless, she debuted her journalism career when she served at the University of Mississippi as a feature reporter for News Watch 99. Also, she served as an event reporter for WTVA, in Tupelo, Mississippi.
Further, she served as a personal assistant to legendary Chef, Emeril Lagasse and his wife, Alden. Ms. Also, she serves as the co-founder, with her mother, of Frill Seekers Gifts™, a national gift boutique and brand. Additionally, she attained the prestigious 2019 Dick Fletcher Excellence in Media Award for her Hurricane Michael broadcast prior to, throughout, and following the storm.
Hurricane Michael ruined the majority of WMBB's viewing region, along with her ability to "rally" and inspire the surrounding communities to assist provide crucial help and resources to those affected hardest by the hurricane after the storm. When the award was presented she was acknowledged for her amazing efforts in educating and informing the public about hurricanes and hurricane response, preparedness, and recovery in the state of Florida.
 "Meteorologists, newscasters and news organizations from across the state of Florida, were nominated for this honor, making the entire WMBB news team proud that our own, Walton/Okaloosa county reporter, Peyton LoCicero, was chosen as the 2019 Dick Fletcher Excellence in Media award winner. Peyton single-handedly represented WMBB during Hurricane Michael, when we physically couldn't," voiced WMBB News Director, Tom Lewis.
To boot, she got nominated for the Florida Public Relations Association's Social Impact Image Award, Emerald Coast. When she is not working, she strolls local art galleries, and taste-tests to find New Orleans' best gumbo and fishing. Else, she serves as a volunteer for the Tickled Pink Party, which she co-founded. Moreover, she benefits the Breast Cancer Research Foundation and assists the Save UnderDogs Rescue Group or the Lupus Foundation Florida.
Furthermore, she serves as the president of the Ole Miss Alumni Association, Emerald Coast chapter. LoCicero serves as a member of the Miss Destin Organization, the Florida Public Relations Association, the Emerald Coast chapter, and the Destin Fishing Rodeo. In addition, she serves as a Kappa Delta alum. In the wake of Hurricane Michael, she rescued an abandoned mini schnauzer/Yorkie mix. She named him Michael alternatively known around town as "Mikey Mike."
WGNO-TV
LoCicero works with WGNO where she serves alongside her fellow anchors, reporters, and meteorologists such as;
Curt Sprang
Tamica Lee
Amy Russo
Anna McAllister
Hank Allen
Brooke Laizer
Brantly Keiek
How Much Does Peyton LoCicero Earn?
LoCicero approximately earns an annual salary that ranges from $100,000-$500,000.
How Much is Peyton LoCicero Worth?
As an anchor, LoCicero has been able to accumulate a net worth that ranges from $1 million to $5 million.
Peyton LoCicero Twitter