Who is Reggie Aqui?
Reggie Aqui is an American of Asian descent journalist who is working for KGO-TV as an anchor for ABC7 Mornings. He joined the station in October 2015.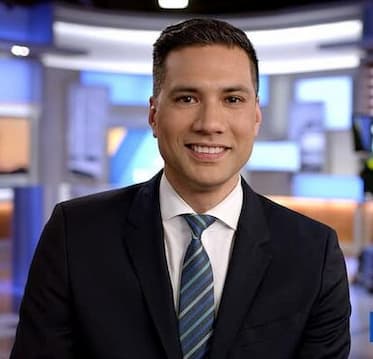 Reggie Aqui Date of Birth / Age
Aqui was born in 1977. He is 45 years old as of 2022.
Reggie Aqui Height
Aqui stands at a height of approximately 5 feet and 7 inches tall.
Reggie Aqui Parents and Siblings
Aqui was born and raised in the U.S. He manages to keep information regarding his parents, siblings, and extended members of his family away from the limelight. Even so, his father passed away "One year since we lost dad.My mom sent me this photo. It's on our fridge. I see it every day as I grab my breakfast shake and leave the house hours before dawn.Honestly, a lo.." he posted on his Instagram account. Also, he has a brother named Marc and twin nieces, Aina and Isra. We will however update this information once it's available to the public.
Reggie Aqui Spouse(Husband/Gay)
Aqui exchanged vows with Phillip Heuring(@innoventionguy) in September 2016. Phillip, nicknamed 'Philly' was born on June 26th. The couple resides in San Francisco. Further, they had a beagle mix dog named Woodstock that died. Now, they have another rescue dog. Nonetheless, the information will be updated once available.
Reggie Aqui Kids / Children
Details regarding whether or not Aqui has any children are not available to the public at the moment. Al; so, he has a rescue dog of Jack and an Irish Terrier mix named Rooster(@verifiedrooster). However, we will update this information once more details concerning this are available.
Reggie Aqui Education
After completing his high school studies, Aqui went on to the Medill School of Journalism at Northwestern University. Later, he became its graduate with a  bachelor's degree in journalism.
Reggie Aqui Career
Aqui works for KGO as an anchor for ABC7 Mornings. He joined the station in October 2015. Prior to this, he served in Portland, Oregon at KGW-TV as an anchor. Before this, he worked for CNN in Atlanta. He served as an anchor on the network's streaming news service dubbed CNN.com Live and as a freelance anchor for CNN International.
During his tenure at CNN.com, he broadcasted the CNN/Facebook coverage of President Obama's inauguration which was the most viewed streaming happening at the time. Also, he broadcasted the 'Arab Spring' revolt and the Japanese Tsunami calamity on CNN International. 
Further, while at CNN U.S, he covered the state's most lethal school shooting from Virginia Tech's campus and traveled nationwide to broadcast wildfires in California to record snowfalls in upstate New York. Nonetheless, his career began in Green Bay, Wisconsin at WLUK-TV. Later, he went on to serve in Milwaukee at WDJT-TV and in Houston, Texas at KHOU-TV.
Moreover, he has sung a duet with Dolly Parton when he was interviewing her where they sang 'Islands in The Stream'  live on CNN.com. Furthermore, he opened for the comedian, Margaret Cho where he took up a stand-up comedy class that wound up with him doing a show in front of family and friends and he happened to perform right before Cho.
On a side note, he was able to earn money for college by working for Chuck E. Cheese while he was in high school where he did birthday party hosting. Also, he wore the Chuck E. Cheese a 6'4 mouse costume. In his free time, he enjoys Disney theme parks.
Reggie Aqui KGO-TV
Aqui works with KGO-TV  where he serves alongside his fellow anchors, reporters, and meteorologists such as;
Jobina Fortson
Zach Fuentes
Liz Kreutz
Dion Lim
Lyanne Melendez
Mike Nicco
How Much Does Reggie Aqui Earn?
Aqui approximately earns an annual salary that ranges from $100,000-$500,000.
How Much is Reggie Aqui Worth?
As an anchor, Aqui has been able to accumulate a net worth that ranges from $1 million to $5 million.
Reggie Aqui Twitter