Who is Sarah Jindra?
Sarah Jindra is an American journalist who is working for WGN-TV as a traffic reporter for WGN Morning News. She joined the station in August 2012.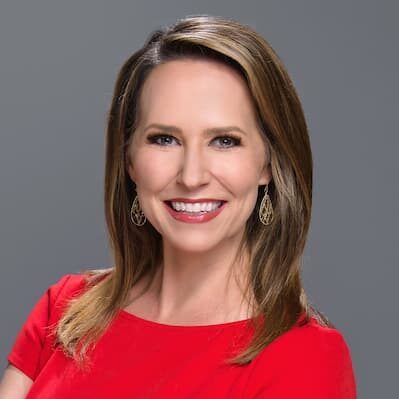 Sarah Jindra Date of Birth / Age
Jindra was born in February 1982. She is 40 years old as of 2022.
Sarah Jindra Height
Jindra stands at a height of approximately 5 feet and 6 inches tall.
Sarah Jindra Parents and Siblings
Jindra was born in Chicago and raised in Westmont. She manages to keep information regarding her parents, siblings, and extended members of her family away from the limelight. Even so, she has a sister. We will however update this information once it's available to the public.
Sarah Jindra Spouse(Husband)
Jindra exchanged vows with her husband, Brent on April 21st, 2012. As of 2022, they celebrated their 10th year anniversary. They have two kids together. Brents celebrates his birthday on June 25th. Nonetheless, the information will be updated once available.
Sarah Jindra Kids / Children
Jindra has a son and a daughter with her husband. Ty was born on June 5th, 2016, and is 6 years old as of 2022. Ava was born on December 21st, 2018, and will be 4 years old as of December 2022. However, we will update this information once more details concerning this are available.
Sarah Jindra Education
After completing her high school education, Jindra went on to attend the University of Illinois in Urbana-Champaign in 2000. Later, in 2004 she became its graduate with a Bachelor Of Science degree in Broadcast Journalism.
Further, she attended Syracuse University in 2004. In 2005, she became its graduate with a Master of Science degree in Broadcast Journalism. While at Syracruse University, she served as a teaching assistant for Broadcast Journalism courses.
Sarah Jindra Career
Jindra works for WGN as a traffic reporter for WGN Morning News. She joined the station in August 2012. Prior to WGN, she served Chicago Public Radio and WMAQ-TV as a weekend traffic reporter. She served the station for 4 and a half years. Additionally, she served the station as a fill-in NBC Morning Show Traffic Reporter and a fill-in Helicopter Reporter.
In addition, she served WBEZ-FM as a morning and afternoon drive traffic reporter for 3 years and 11 months since September 2008. Also, she served WCIA-TV in Champaign as a general assignment news reporter for 2 years and 4 months since September 2005. This is where her broadcasting career started. Also, she served the station as a substitute anchor and a fill-in weather anchor.
WGN
Jindra works with WGN where she serves alongside her fellow anchors, reporters, and meteorologists such as;
Paul Lisnek
Lauren Magiera
Micah Materre
Dan Ponce
Larry Potash
Dan Roan
Pat Tomasulo
Jackie Bange
Tim Joyce
How Much Does Sarah Jindra Earn?
Jindra approximately earns an annual salary that ranges from $100,000-$500,000.
How Much is Sarah Jindra Worth?
As a reporter, Jindra has been able to accumulate a net worth that ranges from $1 million to $5 million.
Sarah Jindra Surgery/ Absence
Jindra has been absent from Tv as a result of shoulder surgery.
"..to our new WGN Morning News podcast yet, I just wanted to share with you that I'm going to be off for two weeks for shoulder surgery tomorrow. You know you're old when you start using your vacation days for surgery🤦‍♀️😂
My shoulder used to dislocate about once a year doing active things like surfing (the story I mention in the podcast w/ the first pic here in the ER in Hawaii), tubing, riding a roller coaster, etc. But in the last year, it has dislocated about 10 times doing things like opening the refrigerator door🤦‍♀️🤦‍♀️🤦‍♀️ It happens so much that my husband and I now know how to put it back in.
You may actually remember one of the times it dislocated several years ago. It happened while I was doing a story at the Chicago Firefighter training academy. Soooo embarrassing 🤪 but they were amazing, as you can see in the clip sho.." she posted on her Instagram account.
She'll be back to work on 17th October 2022.".. niece and now my son 🥰❤️I'm hoping by Monday, I'll have this sling life figured out and be able to do it on my own! I've got about one more week to practice 😂 Back to work on the 17th.." she posted on her Instagram account on 12th October 2022.
Sarah Jindra Twitter