Who is Zach Fuentes?
Zach Fuentes is an American of Afro-Cuban, Puerto Rican, and Irish descent who is working for KGO-TV as a reporter. He joined the ABC 7 News team in 2021. Prior to his time at ABC 7, he worked in Sacramento at KXTV-TV.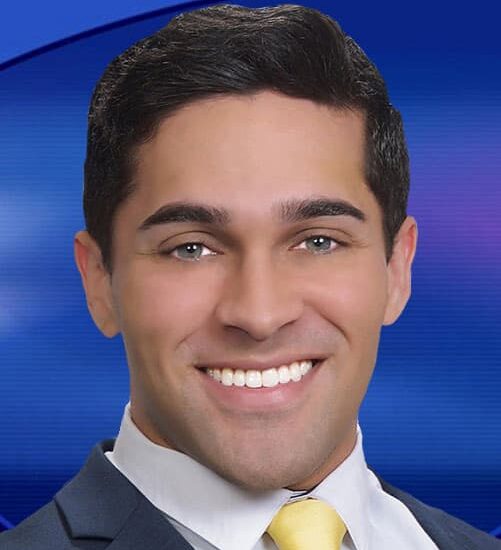 Zach Fuentes Date of Birth / Age
Fuentes was born in April 1992. He is 30 years old as of 2022.
Zach Fuentes Height
Fuentes stands at a height of approximately 5 feet and 7 inches tall.
Zach Fuentes Parents and Siblings
Fuentes was born and raised in Las Vegas, Nevada. He manages to keep information regarding his parents, siblings, and extended members of his family away from the limelight. Even so, his mom is named Annette Maviglia Fuentes who is Puerto Rican and Irish while his dad is Afro-Cuban and came from Communist Cuba.
Annette was raised by her Italian-American father. When Fuentes was born he largely grew up in Las Vegas, Nevada, and later migrated to a town about 60 minutes away from Vegas known as Pahrump when he was a teenager with his parents. We will however update this information once it's available to the public.
Zach Fuentes Spouse(Husband/Gay)
Fuentes exchanged vows with his husband, Michael Gomez(@michaelngomez) in February 2018. The couple celebrated their 4th anniversary together on the 20th of February 2022. Gomez was born on September 13. Nonetheless, the information will be updated once available.
Zach Fuentes Kids / Children
Details regarding whether or not Fuentes has any children are not available to the public at the moment. However, we will update this information once more details concerning this are available.
Zach Fuentes Education
After completing his high school education, Fuentes joined the University of Nevada, Las Vegas. While there he pursued and attained a degree in journalism.
Zach Fuentes Career
Fuentes work's for KGO as a reporter. He joined the ABC 7 News team in 2021. Prior to his time at ABC 7, he worked in Sacramento at KXTV-TV. When he was a teenager, he migrated to Pahrump where he got his first broadcasting job at a KPVM-LD.
While there, he served a summer volunteer position where he answered phones and did other jobs that no one else wanted to do. That is where he learned he could be paid to meet new people and talk, write and go to places.
Also, he witnessed the vital role journalist play in the community where they inform people and hold powerful people accountable for their misconduct thus he decided journalism was his career path. While pursuing his undergraduate studies at the university, he served at the Las Vegas ABC affiliate both off-camera and on-air.
Afterward, he went to California, where he served KION-TV in Monterey, Salinas as an anchor and a reporter. Further, he worked in Sacramento, where he served at KXTV-TV as an anchor and a reporter.
During his quarter-century in Sacramento, he broadcasted the Corona Virus Pandemic from its start, the protests that succeeded George Floyd's brutal murder, wildfires, and the nation's EDD calamity.
Zach Fuentes KGO-TV
Fuentes works with KGO-TV  where he serves alongside his fellow anchors, reporters, and meteorologists such as;
Dan Noyes
Sandhya Patel
Gloria Rodríguez
Stephanie Sierra
Kristen Sze
Drew Tuma
How Much Does Zach Fuentes Earn?
Fuentes approximately earns an annual salary that ranges from $100,000-$500,000.
How Much is Zach Fuentes Worth?
As a reporter, Fuentes has been able to accumulate a net worth that ranges from $1 million to $5 million.
Zach Fuentes Twitter