Who is Allison Gargaro?
Allison Gargaro is an American multimedia journalist working at FOX35 News, WOFL as the weekend Meteorologist in Orlando, Florida. She airs weekend morning and evening shows, from 7-10 a.m., 5 p.m., and 10 p.m. In addition, she is also the host of a cooking show called Simply Sweet Allison. Gargaro is also the author of a cookbook called 'Recipes to the Rescue' where 100% of the proceeds are donated to The Mission at Kern County.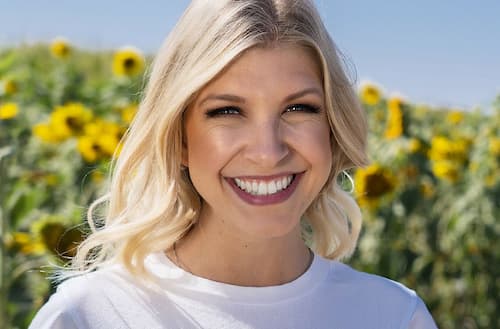 Allison Gargaro Date of Birth / Age
Gargaro's age is not publicly known as she has managed to keep her date of birth away from the public. However, we will update the information once available.
Allison Gargaro Weight and Height
Gargaro is of average weight and has an average height of about 5 feet 7 inches.
Allison Gargaro Parents and Siblings
Gargaro's mother is called Carol Gargaro, She manages to keep details regarding her parents, siblings, and extended members of her family away from the limelight. We will however update this information once it's available to the public.
Allison Gargaro Spouse/ Husband
Gargaro is dating Gibby her handsome boyfriend who celebrates his birthday on the 25th of February annually.
Allison Gargaro Kids / Children
Details regarding whether or not Allison has any children are not available to the public at the moment. However, we will update this information once more details concerning this are available.
Allison Gargaro Education
Gargaro graduated from the Walter Cronkite School of Journalism and Mass Communication at Arizona State University in 2017 where she was a Cronkite News Weather Anchor and Sustainability Reporter at the University. Allison later joined Mississippi State University's Broadcast Meteorology Program where she completed her certification.
Allison Gargaro Career
Gargaro's first job after completing her college was at KERO in Bakersfield, California as the evening weather anchor where she gave Kern County their latest forecast four times a night. In addition, she also hosted a cooking show 'Simply Sweet Allison' where she started sharing her favorite recipes in her kitchen before introducing some of the most unique restaurants in Kern County.
While still at Bakersfield, she also wrote a book 'Recipes to the Rescue' where she donated 100% of the proceeds, $15,000, to The Mission at Kern County. However, In May 2020, Allison left KERO-TV and became part of the FOX35 Orlando team as the weekend Meteorologist. She is on air Saturday and Sunday from 7-10 a.m., 5 p.m., and 10 p.m. She can also be found during the week sharing the experience of events happening in Orlando with the community.
You can also read about
How Much Does Allison Gargaro Earn?
Gargaro earns an annual salary that ranges from $60,000-$100,000.
How Much is Allison Gargaro Worth?
As an anchor/meteorologist, Allison has been able to accumulate a net worth that ranges from $1 million to $5 million.
Allison Gargaro Leaving/Where is Allison Gargaro going?
Gargaron is still working with FOX 35 News serving the station as a Weekend Morning and Evening Meteorologist for the 7-10 a.m., 5 p.m., and 10 p.m. Newscasts. She shares no information regarding her plan on leaving the station. We will update this information once she shares more information with the public.