Who is Craig Fouhy?
Craig Fouhy is an American three-time Emmy Award winner who is working for KNXV-TV as a sports director and a sports anchor. He joined the ABC 15 team in 1998.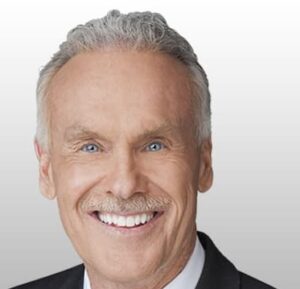 Craig Fouhy Date of Birth / Age
Fouhy is approximately in his 60s as of 2022 although his exact age is not known as he has managed to keep his date of birth away from the public. However, we will update the information once available.
Craig Fouhy Height
Fouhy stands at a height of approximately 5 feet and 7 inches tall.
Craig Fouhy Parents and Siblings
Fouhy was born and raised in the U.S. He manages to keep information regarding his parents, siblings, and extended members of his family away from the limelight. We will however update this information once it's available to the public.
Craig Fouhy Spouse(Wife)
Fouhy exchanged vows with his wife, Kimb and has 6 sons "..married with 6 sons, 2 daughters-in-.." –  Facebook bio. The couple reside in East Valley. Nonetheless, the information will be updated once available.
Craig Fouhy Kids / Children
Fouhy has 6 sons as suggested by his Facebook bio "..married with 6 sons, 2 daughters-in-.." However, we will update this information once more details concerning this are available.
Craig Fouhy Education
After completing his high school studies Fouhy went on to join the Pacific Lutheran University in Tacoma, Washington. He became its graduate with a degree majoring in education, with minors in political science, history, and coaching.
Craig Fouhy Career
Fouhy works for KNXV as a sports director and a sports anchor. He joined the ABC 15 team in 1998. He has the programs "Fouhy on Sports" and "In The Ring" and "Fouhy's Small Stars" on the station. Upon joining the station in 1998, he  has served the station as a morning news anchor, co-host  and a host.
In addition, he co-hosted the popular morning show "Sonoran Living." Additionally, he hosted the station's Sunday Night sports show "Sports Sunday", and"Monday Night Live." Also, he has hosted DIY pieces for E.W. Scripps., the parent company.
Moreover, Fouhy has served as a coach and a play-by-play announcer, color commentator for college football television and radio. Too, he has served as a public-address announcer for several high school, college and professional sports teams across the state. Fouhy has been a coach for 18 years.
Further, he has served high school and college football both as the head and an assistant coach. Else, he was the running backs coach at the University of Montana and the head coach at North Park College in Chicago.
On a side note, one of his favoured football souvenir is when he took over as the head coach at North Park College in the mid-80s whereby he ran the "spread, no huddle offense." In his free time, he enjoys spending time with his family.
How Much Does Craig Fouhy Earn?
Fouhy approximately earns an annual salary that ranges from $100,000-$500,000.
How Much is Craig Fouhy Worth?
As a sports director, Fouhy has been able to accumulate a net worth that ranges from $1 million to $5 million.
Craig Fouhy Twitter