Who is Demetrius Ivory?
Demetrius Ivory is an American journalist of African descent who is working for WGN-TV as a weather anchor of  WGN Midday News and WGN Evening News at 4 p.m. He joined the station in 2013. Upon joining the station in 2013, he initially served as a meteorologist.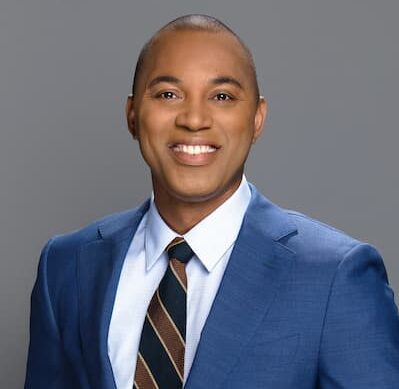 Demetrius Ivory Date of Birth / Age
Ivory is approximately in his 30s as of 2022 although his exact age is not known as he has managed to keep his date of birth away from the public. Even so, he celebrates his birthday on August 14th. However, we will update the information once available.
Demetrius Ivory Height
Ivory stands at a height of approximately 5 feet and 7 inches tall.
Demetrius Ivory Parents and Siblings
Ivory was born and raised in the U.S. He manages to keep information regarding his parents, siblings, and extended members of his family away from the limelight. We will however update this information once it's available to the public.
Demetrius Ivory Spouse(Wife)
Ivory exchanged vows with his wife, Erin on December 21st, 2014. As of December 2022, the couple will celebrate their 8th anniversary together. They have four kids together; 3 daughters and a son. Erin serves WGN as an evening news feature reporter. the information will be updated once available.
Demetrius Ivory Kids / Children
Ivory has 4 kids with his wife; 3 daughters, Lulu, Hadley, Harlow, and a son, Joaquin. Joaquin was born in 2005 and is 17 years old as of 2022. Lulu was born on April 29th, 2008, and is 14 years old as of 2022. The twins, Hadley and Harlow, were born on March 1st, 2016, and are 6 years old as of 2022.
Also, he has an Australian Sheppard dog named Koda. On a side note, their daughter, Hadley suffered from seizures when she was two years old.
"Hadley was just two when she began having repeated seizures. It flipped our lives on it's head. It took a lot of hospital trips, brain scans, MRIs and support to finally find the medication that worked to stop them. We were told Hadley's little body wouldn't be able to withstand more seizures without long term damage. We are beyond grateful fo.." posted on their Instagram account. However, we will update this information once more details concerning this are available.
Demetrius Ivory Education
After completing his high school education, Ivory went on to attend The Ohio State University. Later, he became its graduate with a Bachelor Of Science degree in Atmospheric Sciences and a minor in Computer Science.
Demetrius Ivory Career
Ivory works for WGN as a weather anchor of  WGN Midday News and WGN Evening News at 4 p.m. He joined the station in 2013. Upon joining the station in 2013, he initially served as a meteorologist. Prior to WGN, he served WTAE in Pittsburgh, Pennsylvania as a meteorologist and weather reporter for Channel 4 Action News This Morning.
Further, he served WYTV in Youngstown, Ohio as a meteorologist. Moreover, he served WOHL-TV in Lima, Ohio as the chief meteorologist. Aside from meteorology, he has been involved with numerous charitable organizations around western Pennsylvania. Since 2018, Pittsburgh Magazine consecutively dubbed Ivory Best Weatherperson.
WGN
Ivory works with WGN where he serves alongside his fellow anchors, reporters, and meteorologists such as;
Lauren Magiera
Micah Materre
Dan Ponce
Larry Potash
Tom Skilling
Pat Tomasulo
Tim Joyce
Mike Toomey
How Much Does Demetrius Ivory Earn?
Ivory approximately earns an annual salary that ranges from $100,000-$500,000.
How Much is Demetrius Ivory Worth?
As a weather anchor, Ivory has been able to accumulate a net worth that ranges from $1 million to $5 million.
Demetrius Ivory House
Ivory and his wife traded their five-bedroom house in Glenview for $1.16 million. The house was bought at  $990,000 in 2013. Further, it was built in 2008. Additionally, it has 4 ½ bathrooms, high ceilings, a first-floor office, a kitchen with an oversize island, and a first-floor primary bedroom.
In addition, it has a second-floor laundry room and a fully finished lower level, an in-ground heated pool and spa, and a tumbled rock waterfall. Moreover, it was listed in January for $1.19 million and was sold on March 14.
Erin, Ivory'swife, suffered a heart attack and was diagnosed with advanced heart failure in February 2021. Additionally, one of her kidneys had lost 90% of its function and she had various blood clots in her kidneys, heart, and legs.
Heart failure was evident due to the poor blood flow between the chambers. In addition, she lost 30 pounds and became weak. During her recuperation, she could not walk for not more than 5 minutes. Also, she had a bad circulation that made her wear battery-powered compression socks to keep her toes warm.
"They told me no more triathlons, that I couldn't tax my heart at all anymore, and that was really hard to take. That was hard to swallow because I knew it was true. Just because you think you're healthy, listen to your body and get it checked out." she voiced. Further, she takes 11 medications and is cautiously monitored by her medical team. Also, her circulation and heart function improved.
Demetrius Ivory Twitter