Who is Jeanna Trotman?
Jeanna Trotman is an American journalist working for WXYZ-TV as a weekend sports anchor at 6 p.m. and 11 p.m., at 10 p.m. on WMYD, and a weekday sports reporter.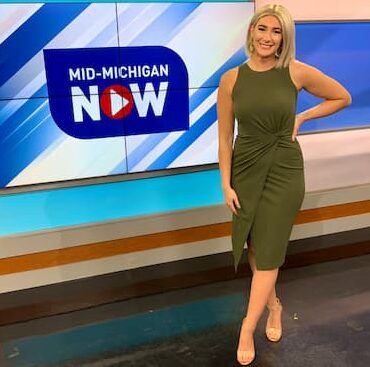 Jeanna Trotman Date of Birth / Age
Trotman was born in August 1990. She'll be turning 32 as of August 2022.
Jeanna Trotman Height
Trotman stands at a height of approximately 5 feet and 6 inches tall.
Jeanna Trotman Parents and Siblings
Trotman was born and raised in Detroit and was raised as the only girl in her family.. She manages to keep information regarding her parents, siblings, and extended members of her family away from the limelight. We will however update this information once it's available to the public.
Jeanna Trotman Spouse (Husband)
Trotman is married to Zach. They exchanged vows in 2017. LSSU college is where they met as thy were both college student-athletes. Zach has played for the Pittsburgh Penguins, Boston Bruins and the Los Angeles Kings while he was an athlete.  In addition, he is now retired after about 10 years of playing from the NHL. They have a son together and a German Shepherd dog. Also, they have another dog which they rescued that they adopted from Mississippi. They reside in Metro Detroit.
Jeanna Trotman Kids / Children
Trotman has a son with her husband Zach named Luka. In addition, Luca was born in December 2019 and will be turning 2 years old as of December 2022. Further, they have two dogs one of which is a German shepherd dog named Murphy and the other adopted from Mississippi named Payton.
Jeanna Trotman Education
Trotman attended and graduated from Henry Ford II high school, Sterling Heights. She later went on to graduate from Lake Superior State University, Michigan with a degree in communication. Afterwards, she went to Boston University and finished her Masters degree in broadcast journalism while specializing in sports reporting. Additionally, while in LSSU she was a NCAA Division II student athlete volleyball player for four years. While she was still sophomore in college, she interned at WXYZ-TV in the sports unit alongside Tom Leyden, Brad Galli and Don Shane.
Jeanna Trotman Career
Trotman works for WXYZ-TV as a weekend sports anchor at 6 p.m. and 11 p.m., at 10 p.m. on WMYD, and a weekday sports reporter. However, her career launch in TV was at KAAL, Rochester in 2014. She served as the station's sports director. Later, in 2017 she worked for  WEYI/WSMH, Flint as a sports director. The station is the FOX and NBC  affiliate in Flint. In 2021, she returned to WXYZ, the station which she had interned at while she was in college. In addition, she has provided coverage for the NCAA basketball National Championship to the Ryder Cup, high school state tournaments and NHL playoffs. Nonetheless, Trotman enjoys reporting on local sports.
How Much Does Jeanna Trotman Earn?
Trotman approximately earns an annual salary that ranges from $100,000-$500,000.
How Much is Jeanna Trotman Worth?
As a sports reporter, Trotman has been able to accumulate a net worth that ranges from $1 million to $5 million.
Jeanna Trotman Twitter