Who is Jim Scott?
Jim Scott is an American News Anchor/Reporter at KGET TV17 -Telemundo 17.3 CW in Bakersfield. He has been working for the station since joining in 1996.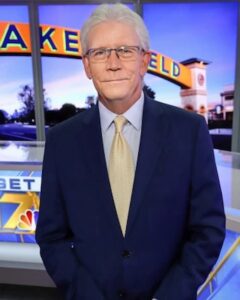 Jim Scott Age/Date Of Birth.
Scott was born and grew up in Casper, Wyoming, but now calls Bakersfield his home. However, his exact age is not known as he has managed to keep his date of birth away from the public. However, we will update the information once available.
Jim Scott Height.
Scott stands at a height of  5 feet 8 inches (1.73M).
Jim Scott Parents and Siblings.
Scott was born and raised in Casper, Wyoming. He manages to keep information regarding his parents, siblings, and extended members of his family away from the limelight. We will however update this information once it's available to the public.
Jim Scott Spouse/Wife
Scott is married to Robin Mangarin whom he used to co-anchor at KERO-TV. They met in 1986 and got married back in 1989. She began her broadcasting career in 1982 beginning with radio. In 1983 she joined KTLA in L.A.  Robin later worked in Ventura County for 2 years before migrating to Bakersfield in 1986 where she met Scott and co-anchored at KERO Channel 23.
She anchored at KERO for 7 years and later got an anchoring job in San Diego at KFMB Channel 8 where she worked for 3 years. Later, she returned back to Bakersfield to join KGET in 1996 where she worked till 2011 when she announced that she'll be stepping down to pursue a career in community service. She last aired on June 15, 2011. Now she is the Vice President of Marketing and Communications at Dignity Health.
 Jim Scott Kids / Children.
Scott and Robin are blessed with two sons Riley and Jack. Riley is 28 years old and lives in Atlanta while Jack is 22 years old and is studying electrical engineering.  Scott also has a grandchild, Jacob.
Jim Scott Education.
Scott attended high school in Casper, Wyoming. He studied at the University of Wyoming where he graduated with a bachelor's degree in broadcasting.
Jim Scott Career.
Scott started broadcasting when he was a sophomore in high school. When he was 15 years old he got his first job as a DJ on KATI AM. He worked the graveyard shift on the weekends at the Top 40 rock and roll station. During summer, he worked his way into a drive-time shift on weekdays. He worked as a DJ throughout high school and college till he was elected student news director at the University of Wyoming for 2 years and later graduated.
After college, he was hired as the news director for KASL-AM in Newcastle. He was employed as a journalist at KCWY TV in Casper, this is when he got his first occupation as a TV journalist. Scott moved to Bakersfield to work as an anchor reporter for KERO-TV in 1983. Later, he moved to San Diego with his family and took a job as a weekend anchor and reporter for KUSI TV, which was in 1994. Towards the end of 1996, he and his wife were offered the opportunity to return to Bakersfield and work for KGET TV which they accepted and he has been working until now.
In addition to that, he hosts and produces a weekly talk show known as Kern County and he is also called to MC fundraising events for non-profit organizations.
You can also read about Limon's colleagues working with KGET
Jim Scott Annual Salary.
Scott earns an annual salary that ranges from $100,000-$500,000.
Jim Scott Net Worth.
As an anchor, Scott has been able to accumulate a net worth that ranges from $1 million to $5 million.