Who is Krystal Klei?
Krystal Klei is an American journalist working at NBC10 as a Meteorologist in Philadelphia, Pennsylvania, United States. She hosts weekend weather forecasting and she assists from time to time with weekday meteorologists.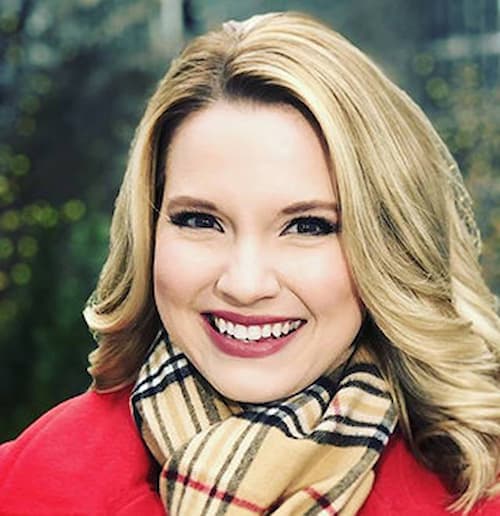 Klei is a specialist in severe weather events like flash flooding, tornadoes, tropical storms/hurricanes, and severe thunderstorms among others.
She is also good in graphic development and weather reporting for the NBC10 First Alert Weather Team where she was trained on. Klei enjoys a good science explainer on-air more so when she uses "AR" to help tell the story. In addition, She also reports on big weather events across the region or working behind-the-scenes when she is not in the studio.
Krystal Klei Date of Birth / Age
Klei is 31 years as of 2021 since she was born on the 18th of August 1990 in the USA. Therefore, she celebrates her birthday on August 18th of every year.
Krystal Klei Weight and Height
Klei is about 115 pounds in weight and has a height of 5 feet and 6 inches on average.
Krystal Klei Parents and Siblings
Klei's place of birth was in Gilbert, Arizona. She has a sibling brother who lives with her parents in Phoenix, Arizona. Nonetheless, other family information will be updated once available.
Krystal Klei Spouse/ Husband
Klei's husband is called  Josh. She got engaged in Center City in 2019 and later wedded him on 20th February in 2021. Therefore, the couple resides in Philadelphia and enjoys the company of their pet Freckles the dog.
Krystal Klei Kids / Children
Details regarding whether or not Klei has any children are not available to the public at the moment. However, we will update this information once more details concerning this are available.
Krystal Klei Education
Klei schooled at Arizona State University. Therefore, graduated with a Bachelor of Science in Geography, Meteorology, and Climatology from 2008 to 2012. She also has a Bachelor of Arts in Broadcast Journalism. Klei participated in Kappa Tau Alpha Fraternity, and Journalism honor Society. Krystal was a recipient of the Scripps Howard Foundation Scholarship and Arizona State University President's Scholarship.
Krystal Klei Career
Klei has always been passionate about weather since a tender age. She started her career at KVIA in El Paso, Texas, and was awarded two Texas AP Broadcaster Awards. Krystal was a Humane Society Telethon anchor at KVIA and this is when she adopted her dog. However, she left the station to work for NBC10 in 2016. She reports on active weather conditions hence updating the Delaware Valley community.
Klei also worked for Cronkite NewsWatch, KAET as a weather Anchor, and News Reporter for 10 months. Her assignments were to Produce weather shows. She presented on-air as well as developed, pitched, shoot, write, edited stories, and completed live shots.
Krystal gained even more experience as an intern working for KNXV-TV. She did various Duties such as reporting stories with reporters and photographers and editing VO/SOTs.Klei wrote stories for the web and assisted at the assignment desk. Also worked as a volunteer in El Paso, Ysleta, and Socorro Independent School Districts. Whereby she frequently visited schools in the YISD, EPISD, and SISD to educate students on meteorology. Klei attends local STEM education efforts and animal rescue initiatives.
Accomplishments and Hobbies;
Krystal has a NATAS Mid-Atlantic Emmy Nomination. She has an organization -the American Meteorological Society and a project -Weather Education Week with NBC10, Telemundo 62, and the Philadelphia Phillies. Klei loves animals and hence has a pet dog whom she walks along the Schuylkill River and within the old city. She loves visiting various restaurants in town with her friend
How Much Does Krystal Klei Earn?
Klei earns an annual salary that ranges from $81,000-$110,000.
How Much is Krystal Klei Worth?
As a Meteorologist, Klei has been able to accumulate a net worth that ranges from $1 million to $5 million.
You can also read about
Bill Henley
Jim Rosenfield
Tracy Davidson
Keith Jones
Lucy Bustamante
Brittney Shipp
Steve Sosna
Rosemary Connors
Erin Coleman
Sheila Watko
Krystal Klei Twitter Handle