Who is Mike Taylor?
Mike Taylor is an American of African descent meteorologist working for WXYZ-TV as a weekend meteorologist since December 2018.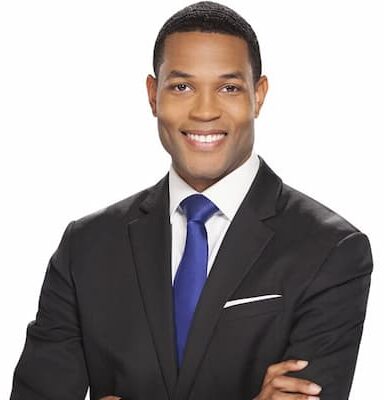 Mike Taylor Date of Birth / Age
Taylor is approximately in his 30s as of 2022 although his exact age is not known as he has managed to keep his date of birth away from the public. However, we will update the information once available.
Mike Taylor Height
Taylor stands at a height of approximately 5 feet and 9 inches tall.
Mike Taylor Parents and Siblings
Taylor has two older sisters of which one is named Michelle. He manages to keep information regarding his parents, siblings, and extended members of his family away from the limelight. We will however update this information once it's available to the public.
Mike Taylor Spouse
Taylor has for a long time been keeping details regarding whether or not he is dating private. It is therefore not known whether Taylor is married or not but the information will be updated once available.
Mike Taylor Kids / Children
He has  a daughter who was born recently. Although he is a private person, he regularly posts his daughter on his Instagram. However, we will update this information once more details concerning this are available.
Mike Taylor Education
Taylor first attended the Wayne State University where he was pursuing Mechanical Engineering from 2004 to 2006. He later on decided to change majors and pursued a degree in atmospheric sciences. In 2006, he joined the Mississippi State University and pursued meteorology. Consequently, in 2009 he became a Mississippi State graduate with a Bachelor of Science degree in meteorology and atmospheric sciences. Additionally, he aspires to gain a Masters degree in meteorology and atmospheric science. Also, he has the National Weather Association's Seal of Approval as of 2022 which he got in February 2017.
Mike Taylor Career
Taylor works for WXYZ-TV as a weekend meteorologist since December 2018. Prior to working for WXYZ-TV he worked for ABC 2, Baltimore as an evening meteorologist. He joined in 2015 and left in December 2018. Also, he worked as a weekend meteorologist for WCIA-TV, Champaign which is a CBS affiliate. He worked for the station for 2 years and 6 months having joined in January 2013. Third, he worked for WBUP, Marquette as an evening meteorologist for 10 months having joined in April 2012. Fourth, he was and served as a chief meteorologist for WBKB, Alpena for a year and a month since joining in January 2012. Also, while serving the station as the chief meteorologist he gained a weather caster of the year award.
Fifth, he served as community relations specialist for ITT Technical Institute, Dearborn for 10 months as of September 2010. Sixth, he served DTE Energy, Detroit as a meteorologist and volunteer co-op for 4 months since joining in June 2010. Seventh, while in the Wayne State University, Detroit  he served as the lead customer service representative for 6 years and 5 months since May 2004. Last but not least, in February 2008 he served The E. W. Scripps Company(WXYZ-TV), Greater Detroit Area as a meteorologist intern for a year and 8 months.
When he was serving as an intern he worked with Dave Rexroth who is the chief meteorologist for WXYZ-TV as of 2022. On a side note, while serving as a meteorologist for WCIA-TV, Champaign Taylor got hate letters weighing 10 pounds for cutting into an NFL game. He cut into the game due to the 2013 Tornado Outbreak on the 17th of November that had traversed across the nation. For 4 hours straight; the chief meteorologist, morning meteorologist and Taylor toiled to obtain the tornado reports and most recent warnings to the citizens.
Fortunately, there was no casualties or deaths during the breakout in his eye-view field. He credits this to the brave call for the interruption of the game by the weather crew. Taylor's hobbies are retro video games, watching movies, working out, spending time outdoors, trying new beers and working on his car (Volvo S60R). Also, he is a huge sports fan and enjoys watching baseball, basketball and football.
How Much Does Mike Taylor Earn?
Taylor approximately earns an annual salary that ranges from $100,000-$500,000.
How Much is Mike Taylor Worth?
As a meteorologist, Taylor has been able to accumulate a net worth that ranges from $1 million to $5 million.
Mike Taylor Twitter