Who is Brice Bement ?
Brice Bement is an American Anchor/Reporter/Meteorologist who works at WCIA where she serves as a nightside reporter. She has been working with the station since January 2021.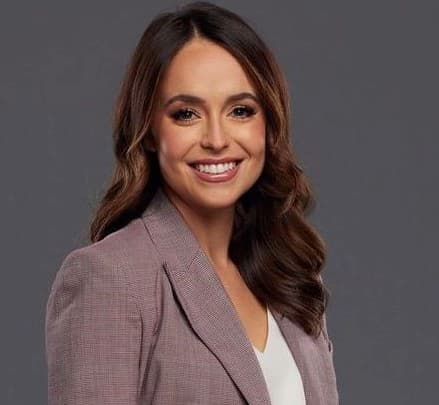 Brice Bement Date of Birth / Age
Bement is 25 years old as of 2022. She was born on April 13, 1997, in Waterloo, Illinois, United States.
Brice Bement's Height
Bement stands at the height of approximately 5 feet and 6 inches tall.
Brice Bement Parents and Siblings
Bement was born to her loving parents Kevin and Kathy Bement in Waterloo, Illinois. Her father was a wrestler at Eastern Illinois and her mother was a softball player. She was also raised alongside her brother Brian, who is a soccer player at Loyola University Chicago.
Brice Bement's Spouse / Husband
Bement is in a romantic relationship with her long-time partner Isaac Harker. She is seen posting a photo of them on her Instagram page having a great time together. However, she manages to keep information regarding whether they are married or not.
Brice Bement Kids / Children
Details regarding whether or not Bement has any children are not available to the public at the moment. However, we will update this information once more details concerning this are available.
Brice Bement Education
Bement went to Austin Peay State University in 2017 where she graduated with a Bachelor of Science in Communication and Media Studies in 2019. There she associated as a sideline reporter on ESPN + for the Ohio Valley Conference, a TV, sports anchor for the APSU TV News, a D1 college soccer player, "After the Final Whistle" and a host for APSU TV sports show "Govs on the Go."
Brice Bement Career
Bement works at the WCIA 3 team as a nightside reporter. Prior to joining the network, she was tenured at WABG as a morning anchor. There she featured both current and former college athletes and also created her own podcast. Previously, she was tenured at St. Louis with Fox Sports Midwest. There she got the opportunity to work with the St. Louis Cardinals, Western Conference Finals, and the 2019 Stanley Cup Playoffs. Additionally, she was also tenured as a sideline reporter on ESPN +, during her years at Austin Peay State University.
There she also served as a sports anchor on APSU TV News and also hosted several sports talk shows. She was also awarded for her short film Best Script and Best in Fest at the Jackson Alley Film Festival and also presented in Broadcast Media Award during her senior year as the Outstanding Senior. Further, she was also accorded the OVC Academic Medal of Honor. During his college year, Berment also tenured as an intern with Nashville Soccer Club. During her leisure time, she enjoys talking and hearing what they had to say, working on her podcast, watching sports, shopping, playing with her dog, and working out.
How Much Does Brice Bement Earn?
Bement approximately earns an annual salary ranging from $100,000 to $500,000.
How Much is Brice Bement Worth?
As a nightside reporter, Bement has accumulated a net worth ranging from $1 million to $5 million.
Brice Bement Twitter
Brice Bement WCIA
Bement works at WCIA where she serves alongside her fellow anchors, reporters, and meteorologists such as;
Jessica Kunz
Karina Rubio
Matthew White
Marley Capper
Andy Olson
Adam Sherwinski
Jacob Dickey
Kevin Lighty
Bret Beherns