Who is Jacob Dickey?
Jacob Dickey is an American Anchor/Reporter/Meteorologist who works for WCIA where he serves as a meteorologist. He has been working with the station since February 2017.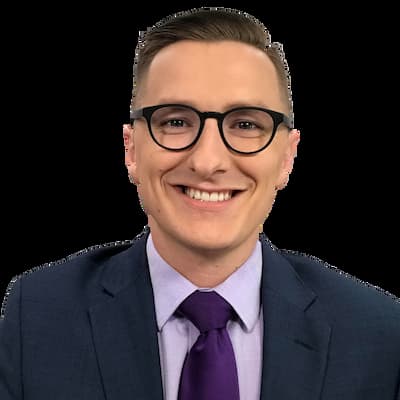 Jacob Dickey Date of Birth / Age
Dickey is approximately 30 years as of 2022 although his exact age is unknown as he has managed to keep his date of birth away from the public. However, we will update the information once available.
Jacob Dickey Height
Dickey stands at the height of approximately 5 feet and 9 inches tall.
Jacob Dickey's Parents and Siblings
Dickey was born and raised in Gibson City, Illinois. He manages to keep information regarding his parents, siblings, and extended members of his family away from the limelight. However, he is seen posting on June 10, 2021, wishing them a happy 36th anniversary. We will update this information once it's available to the public.
Jacob Dickey Spouse / Wife
Dickey got married to his beautiful wife Amy Dickey on April 6, 2022. The two tied the knot at a private wedding in Crozet, Virginia which was attended by only close family and relatives.
Jacob Dickey Kids / Children
Details regarding whether or not Dickey has any children are not available to the public at the moment. However, we will update this information once more details concerning this are available.
Jacob Dickey Education
Dickey went to Parkland College where he studied Agriculture in 2011. He was also a student at The University of Illinois Urbana-Champaign where he graduated with a Bachelor of Science in Agricultural Sciences Education in 2015. Later in 2016, he joined The University of Illinois, Chicago where he attained his Certificate in Nonprofit Management in 2019. Moreover, in 2016, he joined Mississippi State University where he attained his Master of Geosciences and Broadcast Meteorology in 2019.
Jacob Dickey Career
Dickey works at WCIA as a meteorologist at WCIA based in Illinois. Before joining the network, he tenured at KSWO based in Lawton, Oklahoma serving as a meteorologist for 5 months. He had spent about 3 years and 2 months working at WCBI|Morris Media Network where he served as the weekend and field meteorologist based in Columbus, Missouri. Additionally, he also worked at Mississippi FFA Association where he served as a program director. Being a Gibson City, Illinois native, he was an Intern for Derick Fabert, a Kidscaster for Robert Reese, and a Weather Watcher for Judy Fraiser.
During his time at Mississippi State University, he mainly focused on the public's perceptions and knowledge of tornadoes with the goal of developing strategies to reach the public before and during severe weather and identifying more at-risk population groups. In the community, he has played a pivotal role for more than ten years and also was a proud member of the Alpha Tau Alpha. There he served during his senior year as Chapter President at the University of Illinois.
Dickey also served as a student teacher for an Agricultural Education Instructor and FFA Advisor in Orion, Illinois. He also received several endorsements to teach secondary science and mathematics. Additionally, he also was a member of the local chapter of the American Meteorological Society and the National Weather Association, and he was active with Cru at Mississippi State. Dickey also served at the 2018 Mississippi FFA State Convention, as a Keynote Speaker, and was also involved in the local FFA Alumni in Starkville, Mississippi. He also worked for local FFA chapters with the State Officers and developed programs and resources with the Mississippi FFA Foundation.
Before joining WCIA 3 News, he was tenured at WCBI-tv in Columbus, Mississippi as a field meteorologist and weekend and for three years until February 2020. He was later tenured as the acting Chief Meteorologist for KSWO 7 News in Southwest Oklahoma before relocating to Central Illinois. During his time at WCBI, he was active in growing the station's presence on social media and online, focusing on preparation and severe weather awareness. During several of Mississippi's biggest tornadoes, and outbreaks he also chased storms from the scene of occurrence.
He also has witnessed various tropical storms and hurricanes including, North Carolina's Hurricane Florence in Wilmington, Hurricane Matthew in Daytona Beach, Florida, and Hurricane Michael in the Florida Panhandle which is the most notable being Category 5. During the last 15 years, he has also witnessed several tornadoes and severe storms across the United States. Additionally, he has also has interned with several TV weather professionals including Meteorologist Jack Gerfen and Chief Meteorologist Derick Fabert at WCIA 3 News in Champaign, IL, Chief Meteorologist James Spann at ABC 33/40 in Birmingham, AL, Chief Meteorologist Damon Lane at KOCO-tv in Oklahoma City.
During his leisure time, he enjoys exercising, kayaking, biking, running, and beach volleyball and is also an avid fan of the outdoors. He is also an avid fan of the Oklahoma City Thunder, Chicago Cubs, Oklahoma State Cowboys, Mississippi State Bulldogs, and Green Bay Packers. He also loves baking and cooking, eating at local restaurants, keeping an eye on the sky,  playing sports, reading books, and taking road trips.
How Much Does Jacob Dickey Earn?
Dickey approximately earns an annual salary ranging from $100,000 to $500,000.
How Much is Jacob Dickey Worth?
As a meteorologist, Dickey has accumulated a net worth ranging from $1 million to $5 million.
Jacob Dickey Leaving WCIA
Despite all rumors, Dickey is not leaving WCIA instead he is working as the network's full-time meteorologist during weekdays.
Jacob Dickey Twitter
Jacob Dickey WCIA
Dickey works at WCIA where he serves alongside his fellow anchors, reporters, and meteorologists such as;
Jessica Kunz
Karina Rubio
Matthew White
Marley Capper
Andy Olson
Brandon Merano
Adam Sherwinski
Kevin Lighty