Who is Kevin Lighty?
Kevin Lighty is an American Anchor/Reporter/Meteorologist who works for WCIA where he serves as a Chief Meteorologist. He has been working with the station since August 2017.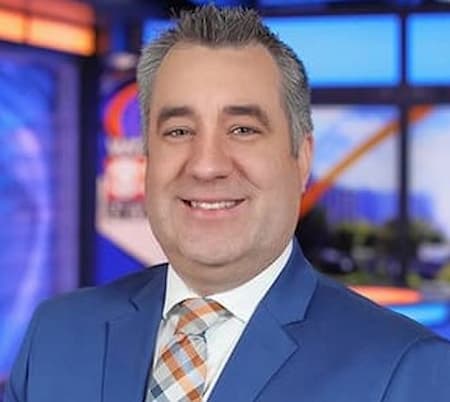 Kevin Lighty Date of Birth / Age
Lighty is  40 years old as of 2022. He was born on October 9, 1982, in Veedersburg, IN, in the United States.
Kevin Lighty Height
Lighty stands at the height of approximately 5 feet and 7 inches tall.
Kevin Lighty's Parents and Siblings
Lighty was born and raised in Veedersburg, IN. He manages to keep information regarding his parents, siblings, and extended members of his family away from the limelight. However, he is seen on September 10, 2022, posting them on his Instagram page when they had gone to pay him a surprise visit. We will update this information once it's available to the public.
Kevin Lighty Spouse / Wife
Lighty is married to his loving wife Tamra Lighty. However, he has provided much information regarding her. We will update you once there is more information regarding their marriage.
Kevin Lighty Kids / Children
The two have a baby named Zachary Corbin Lighty who was born on June 3, 2021. Zachary was delivered at Carle via emergency C-section at 4 pounds 9 ounces and 16 1/2 inches long. He was born 4 weeks earlier than expected.
Kevin Lighty Education
Lighty went to Vincennes University in 2001 and later graduated with an Associate of Arts degree in Radio/TV Broadcasting. Later he joined Indiana State University, where he attained a Bachelor of Science in Physical Geography with a minor in Climatology. There he majored in Meteorology and graduated in 2005.
Kevin Lighty Career
Lighty works at WCIA as a Chief Meteorologist. There he forecasted the network's 5 pm, 6 pm, 9 pm, and 10 pm newscasts. Previously, he was tenured at KSPR-TV in July 2007 in Springfield Missouri Area. There he served for a decade as the network's chief meteorologist. Having a great interest in weather since a young age, he would shoot weather videos using his parents' camcorder. He would pretend to be a weatherman on TV and take shots of storms as they approached. Later he was tenured at the National Weather Service in Indianapolis as a storm spotter.
At the age of 17, he began his first broadcasting career at 94.9 K-Rock and D-102 in Danville, IL as a radio DJ. While at Vincennes University, he got his first crack at TV weather broadcasting at WVUT a PBS station as a weather anchor. He also was tenured at WTHI Channel 10 a CBS station in Terre Haute, IN. There he served as a weather anchor for more than three years. Later he was employed in Lexington, Kentucky at WKYT for two years both as a storm chaser and as a morning meteorologist. He was later tenured at WRTV in Indianapolis doing fill-in weather. In July of 2007, he was tenured as a Chief Meteorologist at KSPR in Springfield, Missouri.
Having been tenured for more than a decade at the network, he has several attributes that have been accorded to him including the best weathercast in Missouri, and 2 Emmy nominations. He also was part of the team that won a national Edward R. Murrow award in 2012 for Best Newscast the night of the Branson Leap Day tornadoes. For the network, he storm chased with the Vortex 2 research team, featuring the Joplin, MO EF-5 tornado. He also has been accorded both by the National Weather Association and the American Meteorological Society the seal of approval.
During his leisure time, he loves playing and watching sports, watching game 7 of the World Series in Wrigleyville, and is a HUGE Cubs fan. He is also a fan of the Chicago Bears & Blackhawks, and also Indiana Pacers which is his favorite basketball team. Aside from him being a meteorologist, he is also a DJ at parties and weddings. Additionally, he is also a drone pilot who is certified by the FAA commercial. There he shot several drone weather-related videos which over the past year made it onto various national news outlets. Additionally, Lighty also tenures as a ham radio operator, call sign WX9KSL.
How Much Does Kevin Lighty Earn?
Lighty approximately earns an annual salary ranging from $100,000 to $500,000.
How Much is Kevin Lighty Worth?
As a Chief Meteorologist, Lighty has accumulated a net worth ranging from $1 million to $5 million.
Kevin Lighty Leaving WCIA
Despite all rumors, Lighty is not leaving WCIA instead he serves as the network's Chief Meteorologist.
Kevin Lighty Twitter
Bret Beherns WCIA
Beherns works at WCIA where he serves alongside his fellow anchors, reporters, and meteorologists such as;
Jessica Kunz
Karina Rubio
Matthew White
Marley Capper
Andy Olson
Brandon Merano
Adam Sherwinski
Jacob Dickey