Who Is Rusty Lord?
Rusty Lord is an American meteorologist working for WOWT since 2008. He now works as the Senior Chief Meteorologist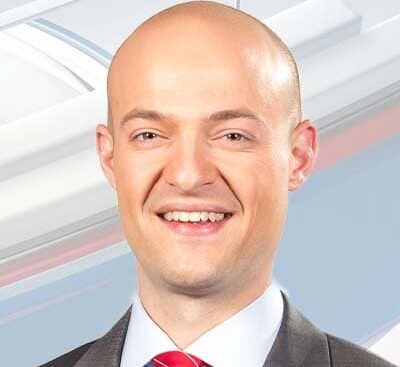 Rusty Lord Date Of Birth/Age
Lord is 38 years of age as of 2022, He was born on the 16th of June 1984 in Western Iowa.
Rusty Lord Height
Lord stands at a height of approximately 5 feet and 7 inches tall.
Rusty Lord Parents and Siblings
Lord was born and raised in Western Iowa. He manages to keep information regarding his parents, siblings, and extended members of his family away from the limelight. We will however update this information once it's available to the public.
Rusty Lord Spouse (Wife)
Lord is married to Liz. He met her in Omaha and got married in September 2015. They have two dogs ,the breed of Mastiff type of dogs ,or better known as the British bulldog/ English bulldog named Wally and Norma Jean. They have a daughter together and currently live in Omaha.
Rusty Lord Kids / Children
Lord has a daughter with his wife Liz named Charlotte May. She was born on the 14th of April 2021. She is 2 years old as of 2022. Although, we will update this information once more details concerning this are available.
Rusty Lord Education
Lord studied and graduated at Iowa State University. He graduated with a Bachelors of Science in Meteorology in 2006 having joined in 2002. He is a Certified Broadcast Meteorologist(CBM) according to the American Meteorology Association(AMA).
Rusty Lord Career
Lord joined the 6 News First Alert Weather Team of WOWT in June 2008. He first worked at KDL-TV in Sioux Falls, South Dakota Area, with the task of forecasting and broadcasting the weather for a year and 10 months having joined in September 2006 and leaving in June 2008. Later, in June 2008 he joined WOWT and first worked as the daybreak meteorologist for the 2 and a half hour morning show on weekdays. he retained this position for 8years and 2 months having joined in June 2008 and leaving in July 2016.
Subsequently, he got promoted to the Chief Meteorologist in July 2016 and performed the duty of ensuring the smooth running of the day to day operations and the upkeep of the weather department. He served as the mentioned position for 5 years and 4 months and got promoted again to the Senior Chief Meteorologist in October 2021. As of 2022, he still serves this position and perform various duties such as leading the team when they are in a high pressure situation such as  when in an active weather setting mostly during severe weather and ushering the meteorology team in forecasting and adapting  to the swiftly everchanging climate that is in Omaha.
Also, he is accountable for coming up with and sustaining a strategy for daily forecasts, developing and revising their illustration and presentation and he has to manage time well to ascertain that day to day broadcasting schedule time is met  . Additionally, Lord and his team have had a 6 year and counting streak of holding the title of the Most Accurate Forecast in Omaha since 2016 when he became the Chief Meteorologist.
How Much Does Rusty Lord Earn?
Lord approximately  earns an annual salary that ranges from $100,000-$500,000.
How Much is Rusty Lord Worth?
As a meteorologist, Rusty Lord has been able to accumulate a net worth that ranges from $1 million to $5 million.
Rusty Lord Twitter