Who is Josh Benson?
Josh Benson is an American Anchor/Reporter/Meteorologist who works for WFLA where he serves as an Evening News Anchor. He has been working with the station since June 2015.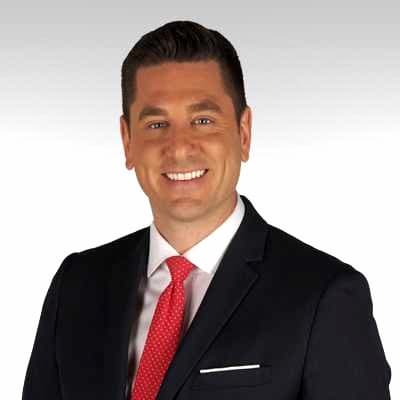 Josh Benson Date of Birth / Age
Benson is approximately 40 years as of 2022 although his exact age is unknown as he has managed to keep his date of birth away from the public. However, we will update the information once available.
Josh Benson Height
Benson stands at a height of approximately 5 feet and 8 inches tall.
Josh Benson's Parents and Siblings
Benson was born and raised in Gopher, Minnesota. He manages to keep information regarding his parents, siblings, and extended members of his family away from the limelight. However, he is seen on July 21, 2022, posting a photo of his parents wishing them a happy 53 YEARS anniversary. He was also raised alongside his brother Greg Benson. We will update you once more information is available to the public.
Josh Benson Spouse / Wife
Benson is married to his loving wife Tara Manis Benson and the couple lives in South Tampa with their two cats Seaweed and Scarlett. He states he had nothing to do with naming the cat Seaweed. His wife is a Greek Canadian who happens to be a die-hard 'Nole.
Josh Benson Kids / Children
The duo are proud parents of two lovely girls Bella and Brooklyn. However, he manages to keep information regarding them away from the limelight. We will update this information once more details concerning this are available to the public.
Josh Benson Education
Benson went to the University of Colorado Boulder in 1998 and later graduated with a degree in Journalism. Later in 1999, he went to the University of Minnesota graduating with a major in Journalism in 2002.
Josh Benson Career
Benson works at WFLA as an Evening News Anchor. Additionally, he also serves at WTTA-TV Great 38 as a full-time evening news anchor. Prior to joining the network, he was tenured by Joker Media, LLC as President since September 2002 in Tampa, Florida. The Media is a Digital Agency that specializes in WordPress development and maintenance, Facebook advertising and marketing, social media marketing, search engine optimization, email marketing, app development, and website design.
Previously, he was tenured at WFOR/CBS Miami as a morning news anchor in 2012 for one year. Before this, he served as a part-time host in Orlando, Florida in 2011. There he interviewed leading tech Founders and CEOs from Silicon Valley and beyond for the social video platform Spreecast. Examples of interviews are with founders from companies like Warby Parker, Slingbox, ModCloth, Paperless Post, CarWoo, Houzz, Roku, GeekLi.st, and many others.
Previously, he was also tenured at WFOR-TV in Miami, Florida as a Morning Anchor. He has anchored newscasts at WFTV-TV in Orlando and at KVOA-TV in Tucson, Arizona. His first job was at KAAL-TV in Austin, Minnesota in between cornfields. He proudly says he lived across the street from the Spam Museum. Benson is a rabid Minnesota Vikings fan even though they are rarely in the winner's circle.  He is a proud Minnesota 'Gopher', although he spends much more time rooting for the FSU Seminoles after meeting his wife Tara.
During his leisure, Benson enjoys website design, programming, and video production. He is passionate about missing person cases and founded FindJodi.com, a non-profit organization that seeks answers to the 1995 disappearance of Jodi Huisentruit KIMT-TV Morning Anchor.
How Much Does Josh Benson Earn?
Benson approximately earns an annual salary ranging from $100,000 to $500,000.
How Much is Josh Benson Worth?
As an Evening News Anchor, Benson has accumulated a net worth ranging from $1 million to $5 million.
Josh Benson Twitter
Josh Benson WFLA
Benson works at WFLA where he serves alongside his fellow anchors, reporters, and meteorologists such as;
Chris Martinez

Jack Royer

Jeff Berardelli

Leigh Spann

Eric Stone

Walt Buteau

Amanda Holly

Rebecca Barry




Shannon Behnken

Mahsa Saeidi