Who is Keith Cate?
Keith Cate is an Emmy Award-Winning American Anchor/Reporter/Meteorologist who works for WFLA where he serves as a co-anchor. He has been working with the station since January 2000.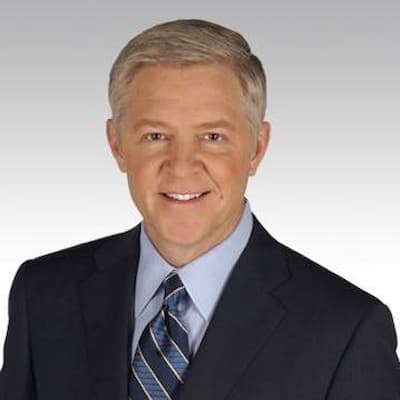 Keith Cate Date of Birth / Age
Cate is 58 years as of 2022. He was born on January 2, 1964, in Tampa, Florida, United States.
Keith Cate Height
Cate stands at the height of approximately 5 feet and 8 inches tall.
Keith Cate's Parents and Siblings
Cate was born and raised in Tampa, Florida, United States. He manages to keep information regarding his parents, siblings, and extended members of his family away from the limelight. We will however update this information once it's available to the public.
Keith Cate Spouse / Wife
Cate is married to his lovely wife Paula Cate who is an instructor in the Department of Educational and Psychological Studies at the USF College of Education. She previously worked as a teacher in Pasco County School District.
Keith Cate Kids / Children
The duo is blessed with three lovely grown-ups Chris Cate, Elizabeth Lacey, and Kevin Cate. The three are happily married to their partners and together they are blessed with three kids each. Chris is happily married to Lori Riegle Cate and together they are blessed with three kids 2 boys and one a girl. Elizabeth is also married to Gerald Whitney Ray and they have three handsome boys. Additionally, Kevin is also married to Ashley Claire Cate and have three lovely kids, a boy, and two girls.
Keith Cate Education
Cate went to East Tennessee State University where he later graduated with a bachelor's degree in broadcast communication in 1984.
Keith Cate Career
Cate works at WFLA as a co-anchor of News Channel 8 at 5 pm, 6 pm & 11 pm. He began his reporting career in 1984 as a reporter, producer, and anchor at WKPT-TV in Kingsport, Tennessee. Later in 1988, he relocated to Columbus, Ohio where he joined WBNS-TV as a weekend anchor and investigative reporter. The most notable work at WBNS-TV was a series of undercover reports on courtroom corruption. In 1992, he joined WMAR-TV in Baltimore, Maryland where he co-anchored the 6 p.m. news.
He then went to work for WIAT-TV in Birmingham, Alabama as anchor of the evening news at 5 and 10 p.m. in 1998. During his journalistic career, he has featured several reports on DNA that helped solve a 10-year-old murder mystery and a 10-part series on the 26 weeks Cate spent going through the police academy. One of his most exciting assignments was in 2009 at the MacDill Air Show where he flew with the world-famous Thunderbirds and experienced the thrill of pulling (9) g's in an F-16 during a one-hour flight over Tampa Bay.
In 2016, he covered President Barack Obama's historic trip to Havana, Cuba. That was his second trip to the Island Nation. He flew to Guantanamo Bay, Cuba in 2006 to report on the treatment of terrorist suspects. In 2005, he traveled to the military hospital in Landstuhl, Germany to cover a story on troops wounded in Iraq and Afghanistan. Back in the year 1994, he stood on the beaches of Normandy, France to cover the 50th anniversary of D-Day. In 1991, Cate reported from Moscow on the fall of communism in the former Soviet Union. Additionally, he covered the World's Fair in Seville, Spain in 1992 and Pope John Paul II's visit to Denver in 1993.
In Florida, he has reported the devastation from several major hurricanes dating back to Andrew in 1992. Additionally, he has reported from Cape Canaveral on the Space Shuttle Columbia disaster in 2003 and Shuttle Discovery's Return to Flight in 2005. He has earned multiple awards and honors during his time at WFLA-TV. Cate has received 14 Emmy Awards, four Edward R. Murrow Awards, many Associated Press Awards, and several other professional honors. He was named Best News Anchor in the Atlanta chapter of the NATAS and was also named one of the most influential people in Florida politics.
How Much Does Keith Cate Earn?
Cate approximately earns an annual salary ranging from $100,000 to $500,000.
How Much is Keith Cate Worth?
As a co-anchor, Cate has accumulated a net worth ranging from $1 million to $5 million.
Keith Cate Twitter
Keith Cate WFLA
Cate works at WFLA where he serves alongside his fellow anchors, reporters, and meteorologists such as;
Chris Martinez

Jack Royer

Jeff Berardelli

Leigh Spann




Eric Stone

Walt Buteau

Amanda Holly

Rebecca Barry

Shannon Behnken

Mahsa Saeidi