Who is Stacie Schaible?
Stacie Schaible is an Emmy-nominated American Anchor/Reporter/Meteorologist who works for WFLA where she serves as an anchor. She has been working with the station since January 2000.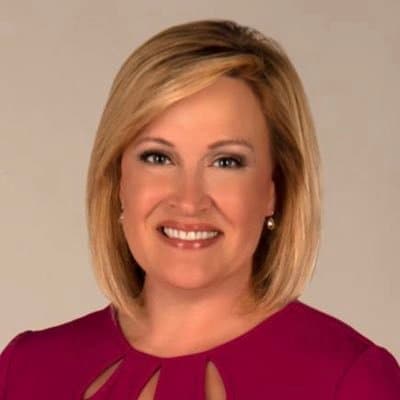 Stacie Schaible Date of Birth / Age
Schaible is 55 years old as of 2022. She was born on June 14, 1967, in Mankato, Minnesota, United States.
Stacie Schaible's Height
Schaible stands at a height of approximately 5 feet and 6 inches tall.
Stacie Schaible Parents and Siblings
Schaible was born and raised in Mankato, Minnesota. She manages to keep information regarding her parents, siblings, and extended members of her family away from the limelight. We will however update this information once it's available to the public.
Stacie Schaible's Spouse / Husband
Schaible is married to her loving husband Mike Cortes. However,she manages to keep information regarding her husband away from the limelight. We will update you once information regarding this is available to the public.
Stacie Schaible Kids / Children
The two are proud parents of two kids a son named Cade Michael Cortes and a girl named Kaia. She also has managed keeping her kids details away from the limelight. However, we will update this information once more details concerning this are available.
Stacie Schaible Education
Schaible went to the University of Minnesota in 1986 where she graduated with a Bachelor of Arts, in Communications/Broadcast Emphasis in 1990.
Stacie Schaible's Career
Schaible works at WFLA anchoring "News Channel 8 at 11," "News Channel 8 at 6 pm," and"News Channel 8 at 4 pm."  Having great interest in journalism since a younger age, she knew at some point in middle school that she was interested in News and really geared her education in that direction. Schaible loves being out and about in the community and she loves asking questions. Anchoring the news is only part of her job. She is very involved in a lot of Bay Area charities and tries to give back to this awesome community whenever she can.
Schaible has also done a lot of consumer and investigative reporting since joining the News Channel Eight team in January of 2000. She got her first job as a News Reporter at KDLH-TV in Duluth, MN. She eventually was named the main evening anchor at that station. Additionally, she anchored at WDAY in Fargo, ND, and KXAN in Austin, TX. Her favorite Story is the 2015 Stanley Cup run by the Lightning stands out.
There's nothing like a great sports team to bring the community together. And since the Cup run is a marathon, not a sprint, their coverage was pretty intense. She made a road trip, anchoring their coverage of the Stanley Cup Final in Chicago and that was definitely a high point. When she is not working, Schaible loves to travel and explore new places. She also loves to golf and hang out at the beach.
How Much Does Stacie Schaible Earn?
Schaible approximately earns an annual salary ranging from $100,000 to $500,000.
How Much is Stacie Schaible Worth?
As an anchor, Schaible has accumulated a net worth ranging from $1 million to $5 million.
Stacie Schaible Twitter
Stacie Schaible WFLA
Schaible works at WFLA where she serves alongside her fellow anchors, reporters, and meteorologists such as;
Chris Martinez

Jack Royer

Jeff Berardelli

Leigh Spann

Eric Stone

Walt Buteau




Amanda Holly

Rebecca Barry

Shannon Behnken

Mahsa Saeidi