Who is Lou Canellis?
Lou Canellis is a well-known journalist from America. He currently works at FOX 32 as a sports anchor. Canellis serves by anchoring at 5.00 p.m. and 9.00 p.m at FOX32 which is located in the Greater Chicago Area. Canellis has had a passion for bear games since he was 6years old. Moreover, he anchors the Bears Gameday and night live coverage on FOX Sunday mornings and Sunday nights.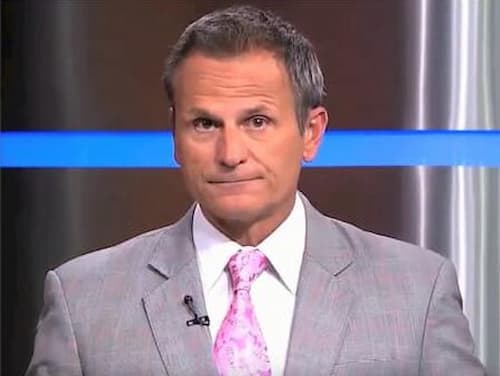 Therefore Canellis hosts all the TV shows owned and produced by the Bears. Besides, Lou also serves by anchoring bear Recap and Bears Blitz three days a week -Mondays, and Wednesdays, as well as Thursdays on Comcast Sportsnet. Canellis can be followed on Roe Conn Show on WLS Radio, 890AM, Mondays, and Fridays. He also hosts a TV show "Making Money in Real Estate."
Lou Canellis Date of Birth / Age
Canellis's age is 57 years old as of 2021. Lou was born in Oak Lawn in 1964. However, other information regarding when he celebrates his birthday will be updated once available.
Lou Canellis Weight and Height
Canellis weighs about 140 pounds and has a height of 5 feet inches on average.
Lou Canellis  Spouse/Wife
Canellis is married to Monica Canellis. Lou wedded her in 2005 in Chicago at the Annunciation Greek Orthodox Cathedral. Monica had several surgeries secondary to uterine fibroids making it difficult to have a child.
Lou Canellis Kids / Children
The couple managed to get a surrogate mother on skype and on 10th May 2018, the couple was blessed with a baby girl Gia Carnellis at Abeline Regional Medical Center.
Lou Canellis Parents and Siblings
Lou was born and grew up in Oak Lawn. He grew up with his three siblings and was taken care of by his both parents in a Greek home. He has younger brothers are called Peter and George and his uncle called Nick Kladis who was a basketball player at Loyola. Kladis assisted as a coach 1963 team that won the NCAA championship.
Lou Canellis Education
Canellis went to Oak Lawn, Illinois, and completed his high school education. He later joined Loyola University Chicago and successfully graduated with a Bachelor of Science in Radio/TV Communications in 1986.
Lou Canellis Career
Canellis worked for Chicago Bulls broadcasts on TV and radio as his very first job in his career. He was on the sidelines and always chatted with Michael Jordan after the game. From 1987 to 1995, Lou worked at Ford Public Interest Affiliates as a VP of Sports Programming. He later left for Sports Channel Chicago as a Sports Anchor.
In addition, Lou has also worked at WMVP ESPN Radio AM 1000, ABC Radio/The Walt Disney Company Chicago, and ESPN as a Play by Play Broadcaster in Bristol, Connecticut from 1998-2018. Canellis now works for Fox TV and living his dream job as the main sports anchor since 2009. He has gained great experience at Fox Tv and enjoying his work as a sports anchor.
Lou Canellis Condo and Restaurant
Canellis and his wife Monica sold their longtime condo at $675,000. They used the money to purchase a new three-bedroom condo on the 12th floor of a 26-story South Loop tower in 2014. The condo, 2,319-square-foot, was listed for $1.23 million but later was available for $1.05 million. However, his wife Monica being a broker with Berkshire Hathaway HomeServices KoenigRubloff, stood in for the couple in the purchase and managed to acquire it at a cheaper price.
Canellis's new condo has floor-to-ceiling windows, views of Lake Michigan and a three baths a split bedroom floor plan. In addition, three garage spaces, and an upgraded kitchen with granite countertops among others. Canellis also owns Avli Taverna restaurant, an upscale Greek eatery in Lincoln Park. The restaurant offers a classic menu that has revived Greek dining in Chicago.
You can also read about
Anthony Ponce
Corey McPherrin
Terrence Lee
Anita Padilla
Sylvia Perez
Roseanne Tellez
Scott Schneider
Kaitlin Sharkey
Sally Schulze
Mark Strehl
How Much Does Lou Canellis Earn?
Canellis earns an annual salary that ranges from $85,000-$180,000.
How Much is Lou Canellis Worth?
As an anchor, Canellis has been able to accumulate a net worth that ranges from $1 million to $5 million.