Who is Brittany Garzillo?
Brittany Garzillo is an  Emmy Award-winning American journalist currently working at Fox 32 (WFLD) Chicago. She is an evening general assignment reporter and fill-in anchor at Fox 32 (WFLD) Chicago.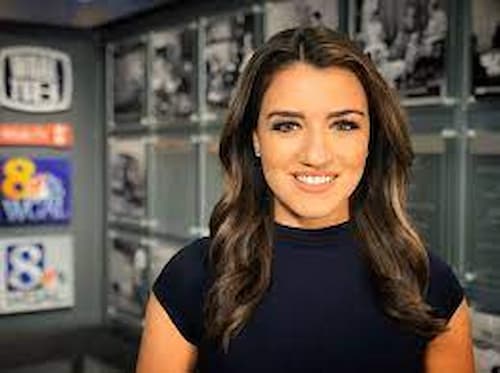 Garzillo previously worked for WGAL News 8 as a Traffic Anchor and Reporter in Easton, Pennsylvania, United States. FOX 32 is Fox owned and operated television station licensed to Chicago, Illinois, United States.
Brittany Garzillo Age
Garzillo prefers to keep her age and birthdates away from social media. Nonetheless, Brittany's details on when she was born will be updated once available.
Brittany Garzillo Weight and Height
Garzillo is about 112 pounds in weight and has a height of   5 feet 6 inches.
Brittany Garzillo Parents and Siblings
Garzillo was born and raised in the United States. She manages to keep information regarding her parents, siblings, and extended members of her family away from the limelight. We will however update this information once it's available to the public.
 Brittany Garzillo Spouse/ Husband
Garzillo is married to Stephen since August 2019. She shared their engagement details in 2018 on her Facebook page. However, their marriage details will be updated once available.
Brittany Garzillo Kids / Children
Details regarding whether or not she has any children are not available to the public at the moment. However, we will update this information once more details concerning this are available.
Brittany Garzillo Education
Garzillo schooled at Moravian College from  – . She successfully completed and graduated with a degree in Communications and Media Studies.
Brittany Garzillo Career
She joined WFMZ-TV as an Intern from Jan 2011 – Apr 2011. Garzillo also worked for NBCUniversal, Inc. as an Intern for The10! Show from Jun 2012 – Aug 2012. Garzillo joined PBS 39-WLVT-TV from Sep 2012 – Dec 2012 as an intern. She was also TitleWriter, Reporter, Co-Producer of the "Three Students, Three Expressions of Art" Documentary for one year. Therefore received a College Production Award at the Mid-Atlantic Emmys for Arts and Entertainment.
However, she worked at PBS39 as a Reporter/Producer from 2013 – Dec 2017. She received NATAS Mid  Emmy Award-winning reporter/producer for PBS39. Brittany also won a PICA (Pennsylvania Institute of Certified Public Accountants) Truth in Finances Award. Besides, she produced The Salvation Army Legacy documentary. She also  Reported and produced weekly stories for them.
Brittany Garzillo Fox 32
Garzillo joined Wgal 8 as a Traffic Anchor/Reporter for 2 years in Lancaster, Pennsylvania. However, She is now an evening general assignment reporter and fill-in anchor at Fox 32 (WFLD). Brittany is based in Fox 32 Chicago since  March 2020. She is a NATAS Mid-Atlantic Emmy Award-winning journalist. Garzillo is one of the newest additions to the FOX 32 team.
Skills;
Garzillo has skills in video production, television, and public speaking among others. She has also gained industry knowledge like social media and event planning only to mention a few. Garzillo is also good in Facebook, Microsoft Office, PowerPoint, and Photoshop among others.
How Much Does Brittany Garzillo Earn?
Garzillo earns an annual salary that ranges from $100,000-$500,000.
How Much is Brittany Garzillo Worth?
As a reporter and anchor, Garzillo has been able to accumulate a net worth that ranges from $1 million to $5 million.
Brittany Garzillo Twitter Handle